Film and Plot Synopsis
Anna Scott is the world's most famous movie star. William Thacker owns a travel bookstore in the quaint neighborhood of Notting Hill. When their paths cross, the couple comes to face the ultimate question: can two people fall in love with the whole world watching?
Buy the Film
Notting Hill [Blu-ray]
10 new from $14.94
3 used from $20.63
Free shipping
as of December 6, 2023 5:52 pm
*As an Amazon Associate we earn from qualifying purchases.
'Notting Hill' Movie Summary
The summary below contains spoilers.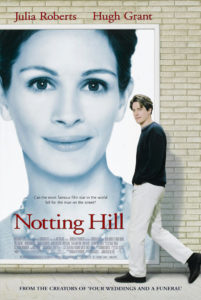 Notting Hill is the romantic story of William, an everyday British man who owns a hole-in-the-wall travel bookshop in an eclectic part of London called Notting Hill, who one fine day walks in the biggest American film star in the world, Anna Scott. What starts as a chance encounter at the bookshop becomes a collision of two worlds on the streets of Notting Hill and neither of their worlds will ever be the same again.
When William literally runs into Anna on the street and spoils her clothes, he takes her to his apartment so she can clean up. While there, Anna spontaneously kisses William to both their surprise. But before they go further, William's lunatic roommate, Spike, arrives to spoil the moment. When Anna leaves a phone message with absent-minded Spike, William realizes she called to ask him to her hotel where he expects it to be a date.
When he arrives, he realizes she is in the middle of a press junket for her new movie and William is thrust into faking he is a journalist to interview her, where she charmingly apologizes for the kiss, then after running through all the other stars of Anna's film, they meet up again where William invites Anna to his sister's birthday party with his friends.
When they arrive, William's awkward but clever friends at first don't understand the attraction but as the night wears on, they all encourage the union between their lonely friend and his actress date.
When Anna and William go out the next night, all is going well until Anna invites him up to her room, where her American boyfriend arrives to destroy William's heart so he leaves. A few months later, William is at home when his doorbell rings. He opens it to the crestfallen Anna, who has just had nude photos splashed all over the newspapers in London and she has nowhere to go.
William and the surprised Spike open their house to her where she is treated to the first normal day she's had in a very long time. At the end of the evening, she goes to bed alone, only to find her way downstairs and she and William have a lovely night together. The next morning, due to Spike's loose lips, the entire London press corp arrives at William's door as the lovers are unaware and open the door to a wall of flashbulbs and reporters to catch them in the act.
Anna gets upset and believes she was set up and leaves angrily as William tries to apologize for something he was unaware. As the weeks turn into months, William is set up on a series of unfavorable blind dates by each of his friends until he finally meets the perfect girl, but he, alas, only has feelings for Anna, who is long gone.
As the friends meet for a party together, William's best friend tells him Anna has been back in London filming a movie so William decides to go see if maybe she still wants to be friends. When he overhears her on the movie sound system dismissing him to a fellow actor, William finally realizes his heart is broken and she's never going to be with him. But as he goes back to work at the bookshop, Anna shows up with a gift and asks if William will take her back.
However, William decides against dating her because of her temper and because she is too famous and he knows he'll never be able to compete. And even though Anna says, "I'm just a girl, standing in front of a boy, asking him to love her", he still rejects her so she leaves.
When William meets with all his friends and tells them what happened, they all do the friend-response and support his decision, except for Spike who tells him he's an idiot. And then it dawns on him that he made a mistake. So they cheerily jump into their car and run to Anna's press conference where she is telling the London press she is leaving the country indefinitely.
When William appears in the crowd and asks an off-hand question as a member of the press that surprises Anna with his presence, she realizes William really loves her and she changes her answer to say she is going to be staying in London indefinitely, with William. William and Anna are then married and all their friends rejoice together at the wedding where we find out months later Anna is pregnant and finally happy with William reading her a good book on a park bench contentedly.
The End.
Additional Film Information
Rate the Film!
Universal Pictures released Notting Hill on May 28, 1999. Roger Michell directed the film starring Hugh Grant, Julia Roberts, and Richard McCabe.