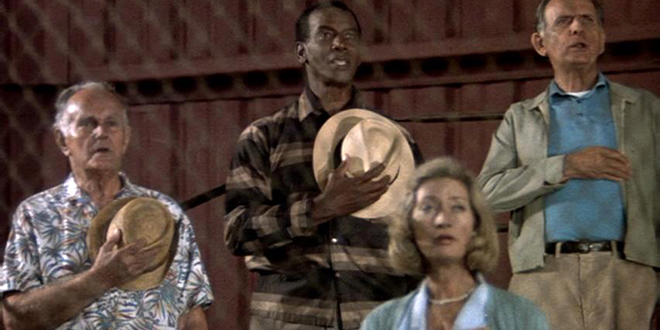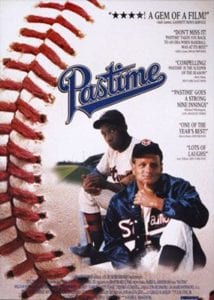 Low-budget movie with high-budget morality
I've been trying to find this incredibly soulful movie on VHS or DVD for two decades. It left that big an impression on me when I was younger. I finally found a copy at Goodwill of all places. It wasn't at a Best Buy in the blockbuster sales category but bought second-hand in a forgotten corner of the store. Fitting for this story.
This is one of those sports movies that will stay with you long after you finish watching. It is a fabulous baseball tale of a rising young star pitcher who nobody sees coming who crosses paths with the faded star of a "never-was" pitcher in his twilight season. The low-budget quality of this movie is evident from the start. It feels like a made-for-TV venture. But the strange thing about the muddled lensing and cheap feel only adds to the flavor of this bottom-feeder squad of minor league losers in 1950s Midwest America.
You feel the desperation of hanging on to a baseball dream in a dead-end town where young players are beginning their careers and older players are watching theirs fading away into oblivion. Records are set by Hall-of-Famers revered by millions. But this is the story of a bunch of bushers. As far from the major leagues as you can get. Primarily, it's a story about a regular guy whose career boils down to just being a misspelled name in a major league box score from decades ago. Yet he still dreams of making it back to The Show someday. It's a universal feeling of hope and humility.
Roy Dean Bream is a broken down 41yo pitcher who many years ago pitched to Stan Musial in the majors as his "one-and-done" special baseball moment. He never saw the majors again but it never dampened the fire inside his ever-hopeful persona. He's fighting Old Man Time and is losing the battle, no matter how hard he tries. The financially-sinking owner of the ball club wants his wise, Roy Dean-supporting manager to cut the "dead wood" to ease the financial burden. And the young spit-'n-vinegar ballplayers make fun of Roy Dean at every opportunity to show who really belongs in baseball and who really doesn't. The writing's on the wall…
Enter Tyrone Debray, a 17yo phenom who has the gas of a major leaguer but has little to no experience in pro baseball. And being black in the 1950s Southern US was none too easy for this soft-spoken, shy, homesick kid with no friends and bigotry still alive and well in his own locker room. Roy Dean, however, doesn't see competition from this young rookie. He sees the potential for this special kid. With the right stuff, Tyrone could be one of the great ones.
When Roy Dean takes Tyrone under his wing and teaches him not only how to be a better human, but also his secret pitch, you can see a mutual respect and friendship between these two competitors who always say, "us pitchers always gotta stick together". It's true sportsmanship and the kind of teammate we could always wish we had when we were young and impressionable, and also the kind of teammate we wished we were when we'd learned some tricks that we could no longer use but knew a youngster coming up could get further with good mentoring.
We've all had those Roy Dean guys on our sports teams growing up. The guy who was never really good enough but always, ALWAYS had a smile on his face and gave you everything he had, even when his best was beneath everyone else's worst. Roy Dean isn't concerned with everyone on his team liking him or even laughing at him to his face. He just keeps trying. He's that rare bright spot, even when he never plays. He may be fooling himself into believing he's better than he is, but he'll never let you know he's hurting inside.
This movie's too slow for the Marvel superhero audience; too simple for the complex thinkers who need a mystery to solve. It's too genteel for the sex, drugs and rock-and-roll audience. It's just a beautiful, gentle, moving PG-rated story about a never-was who passes on wisdom, kindness and respect to someone of a different class, color, and background simply because it's the right thing to do.
"Pastime" had nearly zero budget, no marketing, and just a heart for the game that only the true baller would understand. Crash Davis was talented and his retirement ended in uplifting style in the classic "Bull Durham". That was a comedy, it's funny and remains a popular movie. "Pastime" is different. It is a baseball tragedy which some people don't like and probably explains why it's forgotten when mentioning the best baseball movies of all-time. Such a shame. This story conveys the sadness and emotional turmoil of watching your playing days end because someone else doesn't think you "have it" anymore when all you wanna do is play. It's cruel, subjective and powerful. It's also inevitable.
Roy Dean's private moment of pitching only for himself is what this movie aspires to. For love of the game. No crowds. No media. It isn't flashy. It isn't proud. It's just… perfect. If the end doesn't bring a tear to your eye, you couldn't have felt how passionately some athletes feel about their sports. Once your playing days are over, it's like amputating a part of your heart.
As a standard movie, this is a 7 out of 10. As a movie I would recommend to every ballplayer and coach in America to watch and learn from, this is an 11 out of 10. One of my favorite sports movies of all time and I love so many. Pass this onto an aspiring athlete – baseball players especially. I hope they feel it in their soul as much as I have. This one is a keeper.
What do you think of the film? Let us know in the comments below.
Disclaimer: Affiliate links contained in this post will take you to Amazon.com and/or the iTunes Store. This Means when you click a link, and purchase an item, the MHM Podcast Network will receive an affiliate commission. Advertisers and Affiliate Partnerships do not influence our content. See our Terms of Use about the inclusion of affiliate links on this site for more information.
MHM's Rating
n 1957, baseball is at its peak as America's favorite pastime. Although united in its love of the game, the country is divided on the issue of Civil Rights.