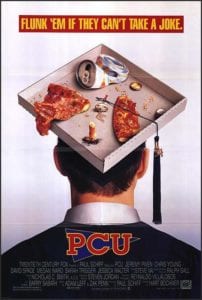 I bought this movie at a discount store for several reasons: 1) The IMDb reviews give it nearly a "7"(???); 2) I LOVE Jeremy Piven, David Spade, Chris Young, et al; 3) I was NOT expecting a high budget, true "Animal House" experience for an indie film; and, 4) I genuinely love college comedies/spoofs if they are done well and have a heart/direction. I should also preface the fact I don't like Hart Bochner as an actor so I went in trying to forget he was behind the lens for this experience.
I wanted to love it. I really did. I was NOT expecting Shakespeare or even "SNL" actually. Nothing will touch "Animal House" on the originality scale but I appreciate people trying to put out a quality movie. I love to laugh and enjoy even low-brow humor when done with good intentions by the actors/writer/director. Unfortunately, this movie was neither funny nor inspired. Don't get me wrong, there are some smile-worthy moments – how can you not giggle a little when Jeremy Piven goes into his pre-stardom everyman-speed-riff humor he patented in such later gems as "Serendipity" and "Just Write"?
However, this mess of a storyline with every possible college cliché or ridiculous stereotype thrown at you seems like they were straining to come up with valid story points on the fly to complete the project. Seriously, even in a spoof/satire of college life there needs to be at least some resemblance of reality.
I won't give any spoilers away, but if you have ever attended any college – from the Ivy League/Cambridge-caliber all the way down to the local community college -, I can honestly say I never, ever saw some of the deliriously brazen disregard for college life or the wonderfully odd, individual students who attend. Even by the lowest standards of any institution in the world, students need to attend a class and maintain a resemblance of a GPA.
Honestly, for all the people who watched this movie (and I understand the story was over ONE weekend), were these based on any real students? They all looked and acted like a ridiculous caricature of spoiled rich kids, dopey addicts/activists with no direction and/or frat kids with zero intention on truly attending class and/or receiving any sort of degree. It was simply — an unmitigated mess.
I don't believe it is a total waste of time as, like I stated above, there are a few "smile" moments. That's why I gave it a "2" instead of lower. But as a whole, the story is such an "Animal House" rip-off without being remotely inventive or funny it doesn't bear a comparison in the slightest. Nobody should ever be ashamed of the work they do on a movie unless they "mail it in" (think Bruce Willis lately ;-). I believe the director seemed to have mailed it in. I believe the actors gave their all to a very weak, uninspired, unmemorable script. They all deserved better. So did the viewer. I will be either giving my copy to Goodwill or the trash. Sad… I really wanted to love this one. Maybe next time…
What do you think of the film? Let us know in the comments below.
Disclaimer: Affiliate links contained in this post will take you to Amazon.com and/or the iTunes Store. This Means when you click a link, and purchase an item, the MHM Podcast Network will receive an affiliate commission. Advertisers and Affiliate Partnerships do not influence our content. See our Terms of Use about the inclusion of affiliate links on this site for more information.
MHM's Rating
A high school senior visits college for the weekend, and stays at the wildest house on campus in this classic tale of anti-political-correctness.