MHM Mart
Penny Serenade (1941) Will Cost You Some Coin On Blu-ray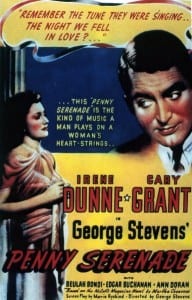 Olive Films has announced the addition of the romantic drama Penny Serenade to its upcoming slate of Blu-ray releases. The film was directed by George Stevens and starred Irene Dunne, Cary Grant, Beulah Bondi, Edgar Buchanan, and Ann Doran. Penny Serenade will be available for purchase online and in stores beginning on August 27th.
In the film, a young couple falls in love while on a trip to Japan, but face tragedy when an earthquake causes June (Dunne) to lose the baby she is carrying. When she and Roger (Grant) return to San Francisco, they consider adoption as an antidote to their now-struggling marriage. Meanwhile, June's favorite records seem to unfailingly chronicle her life throughout this warmly-entertaining drama. Penny Serenade was released in April of 1941. Grant was nominated for a Best Actor Academy Award for the film.
Olive Films has not released any details concerning the exact tech specs and special features that will be included with the disc.
Source: Blu-ray.com