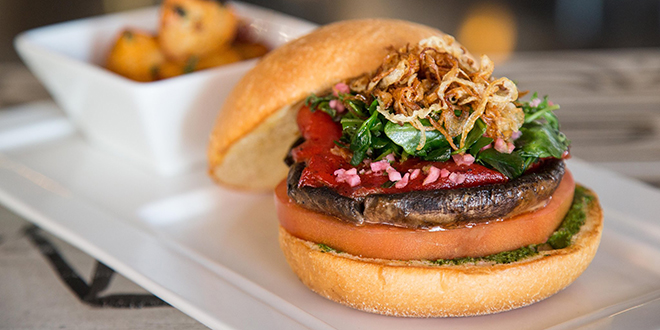 "What the hell is with the parking lot being this full?" I asked myself as I finally found a spot 4 rows away from the restaurant. Ok. It's a good thing there's a medical center next to this complex, because I might have a heat stroke making the long trek to the establishment.
I mosey up to the bar which is empty. The wall in front of me is actually a giant mirror which allows me to view the entire restaurant. I can catch glimpses from all of those lonely North Phoenix moms looking for a vegan dish while their 11 year old is at fencing practice. What a time to be alive.
The bartender is a beautiful late twenty something who looks very comfortable in her cross trainer shoes and yoga pants. I ask for the usual beer gin, grab a menu, and order the Mediterranean Chicken Wrap.
The food comes and I order a half gallon of Sriracha to accompany it. I bite in and HOLY SHIT this is pretty good. Maybe it's just the Sriracha. Maybe I'm a little buzzed. Maybe I'm sweet on that increasingly attractive bartender. Maybe all three, but the food was very decent.
She gives me the bill and it is surprisingly average. I pay and say thank you, but have a squeak in my voice like I'm in seventh grade going through puberty again.
My opinion on the establishment? Seventh grade sucked. I'd choose to end my life than endure those awkward years again.
Oh, and Pita Jungle? Not too bad. I'll be back. Just apply some sunscreen for the walk through the parking lot. Ok. Talk to you soon.
Guest Review by Anthony Tellez.
What do you think of Pita Jungle? Let us know in the comments below.
Disclaimer: Opinions expressed are solely Anthony Tellez's and do not express the views or opinions of the MHM Podcast Network and Fuzzy Bunny Slippers Entertainment LLC.