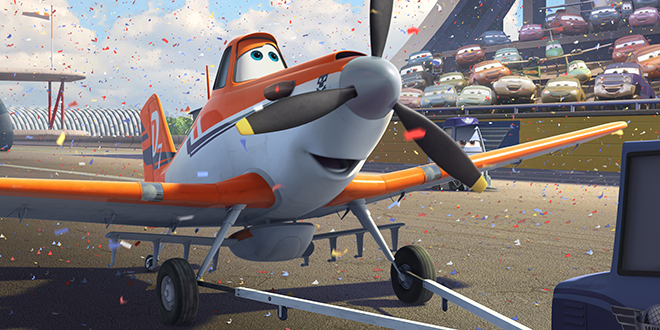 Walt Disney Pictures has released a second trailer for the upcoming animated film Planes. The film is directed by Klay Hall and features the voice talents of Dane Cook, Anthony Edwards, Val Kilmer, Stacy Keach, Cedric the Entertainer, Teri Hatcher, Brad Garrett, Julia Louis-Dreyfus, John Cleese, Priyanka Chopra, Sinbad, Colin Cowherd, and Carlos Alazraqui. Planes is scheduled to land in theaters on August 9, 2013.
The film tells the story of Dusty, a cropdusting plane who dreams of competing in a famous aerial race. The problem? He is hopelessly afraid of heights. With the support of his mentor Skipper and a host of new friends, Dusty sets off to make his dreams come true.
Planes was originally scheduled to be released direct-to-video, but the studio reversed itself and scheduled the film for a 3D theatrical release.
Second Theatrical Trailer for the film Planes  courtesy of Movie Clips Trailers
Source: Walt Disney Pictures