Film and Plot Synopsis
In the black-and-white '50s sitcom realm of Pleasantville, mom always has a yummy meatloaf in the oven, the home team never loses and romance is a shy peck on the cheek. Until now. Because modern, real-life teens David and Jennifer are mysteriously zapped into that TV world. With them come ideas and passions that turn the town's cozy perfection into something more challenging and colorful.
Buy the Film
Pleasantville [Blu-ray]
12 new from $14.49
8 used from $7.97
Free shipping
as of September 30, 2023 1:17 am
*As an Amazon Associate we earn from qualifying purchases.
'Pleasantville' Movie Summary
The summary below contains spoilers.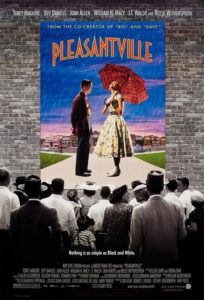 David (Tobey Maguire) is a socially-awkward loner who is an expert on every episode of the 50's sitcom, 'Pleasantville' where life is simpler and more innocent. Meanwhile, his sister, Jennifer (Reese Witherspoon), is mainly focused on her appearance and her popularity. Their divorced mother leaves Jennifer and David alone at home while she heads out of town for a rendezvous with her younger boyfriend.
That evening, David wants to watch a 'Pleasantville' marathon on television while Jennifer has a date to watch a concert on the same television, causing a fight that destroys the remote control. A mysterious TV repairman (Don Knotts) appears and offers a 'special' remote that is so good, it can put someone right inside the show. Within moments, David and Jennifer are zapped directly into the black-and-white, sterilized world of Pleasantville which centers around the idyllic Parker family of father, George (William H. Macy), his wife Betty (Joan Allen), and their two children, Bud and Mary Sue.
David tries to reason with the repairman (who communicates with him through the Parkers' TV set) but succeeds only in chasing him away. David and Jennifer must now pretend they are, respectively, Bud and Mary Sue Parker. Jennifer is angry at being stranded in black-and-white, but she and David begin exposing the town to issues such as sex, personal freedoms, styles of art, and literature. Pleasantville soon begins changing quickly where previously black-and-white objects and people begin to develop into full and vibrant colors. Jennifer embraces her inner 'bad girl' and begins corrupting the too-innocent-for-their-own-good high school students, which leads to catastrophic results for the basketball team, Lover's Lane, and the local malt shop where all the kids hang out.
David may have wanted to leave originally, but he feels a sense of belonging so much so that when the TV repairman returns and berates him for altering the show so much, David turns off the TV, relinquishing his ability to go home in the process. While the mayor is concerned, people in Pleasantville begin to explore hidden abilities and revel in their new freedoms.
As the film progresses, George and Betty's relationship comes under strain as Jennifer teaches Betty about carnal and other updated delights that were previously unknown in the innocent Pleasantville. All the while George, the mayor of Pleasantville and most of the mortified adult residents try to mitigate the increasingly damaging colorization of their perfect little black-and-white world, despite changes happening before their very eyes at every turn with teenagers experimenting in sex, reading racy literature, and twin beds are replaced with controversially-forbidden double beds.
When Betty and Bill, the malt shop owner (Jeff Daniels), spend the night together where Bill paints Betty's nude figure onto the malt shop's window to take things one step too far, the uptight Pleasantville population passes laws against the 'coloreds' and begin terrorizing them at every turn—including arresting David and Bill and putting them on trial in front of the entire town.
Does the town hold David and Bill to account for changing the town's youth into embracing change against the town's desires to stay innocent? Will George and Betty resolve their differences when both of them have different plans for their future ahead? Will David and Jennifer ever return to the present after making such drastic changes to not only their lives but those lives of the fictional town of Pleasantville? Watch the film to find out!
Additional Film Information
Rate the film!
New Line Cinema released Pleasantville on October 23, 1998. Gary Ross directed the film starring Tobey Maguire, Jeff Daniels, and Joan Allen.