Film and Plot Synopsis
James Bond and M investigate a shadowy international network of power and corruption which brings in billions of dollars. After an assassination attempt on M's life, Bond races against the clock to find Dominic Greene; a world-renowned developer of green technology. Greene is intent on securing a barren area of Bolivia in exchange for assisting a strongman stage a coup there. When the American C.I.A. looks the other way, Bond must take him down with only the help of a retired spy and a mysterious woman. However, M is unsure if she can trust Bond, or if he's only out for vengeance.
Buy the Film
Quantum of Solace Special Edition [Blu-ray]
11 new from $16.94
4 used from $10.41
Free shipping
as of November 29, 2023 3:06 pm
*As an Amazon Associate we earn from qualifying purchases.
'Quantum of Solace' Movie Summary
The summary below contains spoilers.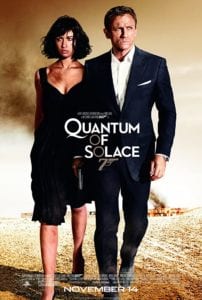 Quantum of Solace
begins moments after
Casino Royale
ends. Bond flees with Mr. White in his trunk. He brings Mr. White in for questioning with M and some other agents. Mr. White, though, has a man on the inside, and one of the agents, M's own bodyguard, opens fire on Bond and M. White escapes.
Bond follows a lead to Haiti, where he meets Camille Montes. Montes is mixed up with a sinister type named Dominic Greene. Greene is an environmental entrepreneur. He meets with an exiled Bolivian General, General Medrano, and promises to put Bolivia under his thumb in exchange for a certain tract of ostensibly worthless desert land. Greene even throws Montes in to sweeten the deal, so long as Medrano kills her when he's done with her. Bond rescues Montes as she prepares to kill Medrano.
Bond heads to Austria, where Greene is meeting with other members of Quantum, including Mr. White, as they plot their designs at an opera. A firefight ensues, and M revokes Bonds credit cards and passports. Bond goes to Italy and enlists the help of his friend, Mathis.
The two of them head to Bolivia, where a pencil pusher with MIA, Strawberry Fields, attempts to arrest them. Instead of arresting Bond, Fields bangs him. Then Bond heads out for a party, where he's reunited with Montes.
Bond and Montes investigate the tract of desert now owned by Quantum and discovery that, instead of oil, the land is rich with water. Quantum is withholding water and plans to sell it to the government at exorbitant prices. Greene tells Medrano of the new water pricing structure at a hotel in the desert. Bond infiltrates the hotel.
Montes kills Medrano. And Bond takes Greene out to the desert and leaves him with nothing but a can of motor oil and a lot of walking to do. They find Greene some time later, dead in the desert, shot twice with the oil in his stomach.
Finally, Bond travels to Russia. He confronts Vesper Lynd's old flame, Yusef. Yusef has seduced another hot government agent in order to extract classified info from her for Quantum. Bond lets him live and leaves Vesper's necklace in the road.
Additional Film Information
Rate the Film!
Sony Pictures Releasing released Quantum of Solace on November 14, 2008. Marc Forster directed the film starring Daniel Craig, Olga Kurylenko, and Mathieu Amalric.