Film and Plot Synopsis
When Australian rancher Elliott Marston hires a Wyoming sharpshooter named Matt Quigley, he expects him to shoot and kill local aborigines; not dingos like he originally thought. However, this proposition offends Quigley, and he balks at the opportunity. This leads to Marston setting out to kill Quigley for refusing. Quigley eventually flees into the Australian Outback with a woman named Crazy Cora before eventually returning to exact his revenge on all his new enemies in the Land Down Under.
Buy the Film
Quigley Down Under [Blu-ray]
11 new from $13.99
4 used from $11.99
Free shipping
as of September 19, 2023 12:46 pm
*As an Amazon Associate we earn from qualifying purchases.
'Quigley Down Under' Movie Summary
The summary below contains many spoilers and feeble attempts at humor.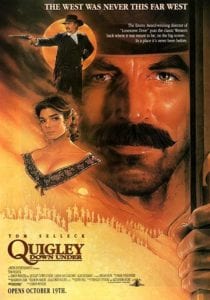 Quigley Down Under
begins with an Australian cattle super baron who has advertised internationally for the greatest long-range marksman in the world to hunt dingoes off his ranch, which is the size of half of Down Under. He gets a unique response in a newspaper clipping having six holes shot through from 900 yards away by a Wyoming cowboy, who looks a lot like a sexy Magnum P.I. exchanging his Hawaiian shirts for authentic cowboy garb.
Matthew Quigley arrives in Fremantle, Australia, with his saddle and his experimental Sharps rifle dressed as a "lever-action, breech-loader. Usual barrel length's thirty inches. This one has an extra four. It's converted to use a special forty-five caliber, hundred-and-ten-grain metal cartridge, with a five-hundred-forty grain paper patch bullet.
It's fitted with double-set triggers, and a Vernier sight, marked up to twelve-hundred yards. This one shoots a mite further." Just off the boat, Matthew and his Sharps are immediately met by the cattle baron's men, who unknowingly pick a fight with Quigley and his Sharps when they try throwing an American prostitute named Crazy Cora into the back of their wagon.
Once they realize they are all on the same side, Quigley, his Sharps, Crazy Cora, and all the other people who are future rifle targets pile into the wagon and travel many days over the land that Crocodile Dundee discovered on their way to Marsden Waters, the gigantic ranch owned by Hans Gruber from Die Hard reincarnated as Elliott Marsden, Aussie asshole extraordinaire.
Quigley hops off the wagon and is immediately challenged to show if he's as good with his Sharps as his newspaper clipping advertised. He proves he never had any use for handguns but he has an uncanny ability to assassinate an innocent bucket with three bullets from a thousand yards away. He's hired on the spot and is asked to feast over the decision.
What Marsden forgot to mention was Quigley's unique skills would not be used to hunt dingoes, but to kill Australia's version of American Indians, the Aborigines. Quigley responds by knocking Marsden out of his own house. Twice. Quigley is promptly attacked by the ranch hands and is taken prisoner. Instead of killing him on the spot like Marsden's character would have, Quigley and Crazy Cora are driven two days away from the ranch by the dead man walking who just so happens to have taken Quigley's Sharps with him on the trip because without the Sharps, we wouldn't have a movie. Quigley escapes with Cora and his prized Sharps into the Outback with no water, no food, and no sunscreen.
They collapse later to die in the blazing sun, but are rescued by a band of spiritual Aborigines, who spend an entire montage nursing them back to health, magically healing the stage-3 sunburns, and teaching the duo how the Aborigines are the dream team of spiritual native beings and isn't Marsden a first-class turd for hunting them in the first place. Once healed, the tribe leaves Quigley and friends, only to be run down by Marsden's men who Quigley guns down from long range because, oh, isn't it fun to watch a .45 caliber super bullet knock some dick-weed off the back of his horse from a mile away.
Abandoned by the fleeing Aborigines, Quigley and Crazy Cora ride in circles for as long as the movie needs until they come upon a different group of helpless Aborigines pushed to the edge of a cliff by Marsden's heavily armed minions who want to see if Aborigines can fly. Cora runs toward the minions armed with nothing but a ragged hoop skirt, a loud scream, and her two very impressive, umm, her hat bouncing up and down with each step. Quigley aims his Sharps and picks off all but one of the thugs, because somebody has to warn Marsden that Quigley's still shooting holes in dumbasses from long distance.
Cora goes to the bottom of the cliff and is devastated to realize the entire tribe is murdered, except for one small baby has survived. Cora adopts the baby, where Quigley finds a convenient, fully backlit cave with plenty of room for future killings of dingoes in the living room. He kills some iguanas and leaves Cora and the baby fully armed with another rifle and six-shooter from the dead guys while he rides off to a far off town to get supplies.
Quigley arrives in the town and has just enough time to eat, hobnob with the local mercantile, get plenty of supplies and replace his extremely rare ammunition all while Cora is left starving in the wilderness. Quigley's horse is immediately identified from long distance, in the dark, by drunken Marsden men who recognize the only American saddle in the entire continent of Australia which has to belong to Quigley since no other American has ever visited the country, and since no Marsden man knows Quigley is still alive at this point in the movie.
A firefight begins where Quigley is fired upon so he returns fire while running up stairs that are caught on fire as bad guys fire at him from all directions while locals fight the fire that could catch the entire town on fire if Quigley doesn't fire back at the bad guys as they fire at him as he escapes the fire by climbing through a window that isn't on fire where he leaps from the building that is on fire to a building that isn't on fire which he uses as cover to escape the fire long enough to exchange fire with the bad guys who fire at him until he fires back, killing all but one fired up drunk Marsden man.
Quigley heads back to the cave where, unbeknownst to him, Crazy Cora has defended the baby from an entire pack of dingoes masquerading as blood-covered Comanches, intent on feasting on the baby and Cora's overly plump… iguanas. Quigley arrives to find Cora and the baby have survived. He rides them all to the town where Cora has to give up the baby just so she can regain her sanity and look radiant in the morning sun. Quigley and his Sharps ride into the sunset to take on Marsden and his army of Sharps targets.
Quigley's Sharps roars to life from a thousand yards, blowing them away with one spectacular backflip after impressive backflip at a time. He is finally cornered, wounded and dragged into Marsden's courtyard behind a horse because, again, what's the point of killing him outright like every other normal villain when you can ridicule him in front of your men.
Marsden decides he wants to challenge Quigley to a pistol gun fight between the Sharps-toting Quigley and Marsden's quick-draw expertise. Will Quigley recognize which hog-leg to grab since it's shoved into the front of his pants? Does Marsden realize he just gave a fully-loaded six-shooter to a bonafide killer from the American West who was friends with Wild Bill Hickock instead of giving him just one bullet? Do Marsden's idiotic gunmen strap on bullseye targets across their chests for the final showdown while standing directly next to their arrogant boss instead of standing a safe distance away on Quigley's flank?
This summary is spoiler-free so we won't tell you that Quigley doesn't die and Marsden's guys do. But the movie still isn't over. We'll leave that magical end for your viewing enjoyment but it wouldn't be a modern Western without a man, a woman and his priceless weapon sailing off into the sunset on a boat instead of a horse.
The End.
Additional Film Information
Rate the Film!
Metro-Goldwyn-Mayer released Quigley Down Under on October 19, 1990. Simon Wincer directed the film starring Tom Selleck, Laura San Giacomo, and Alan Rickman.