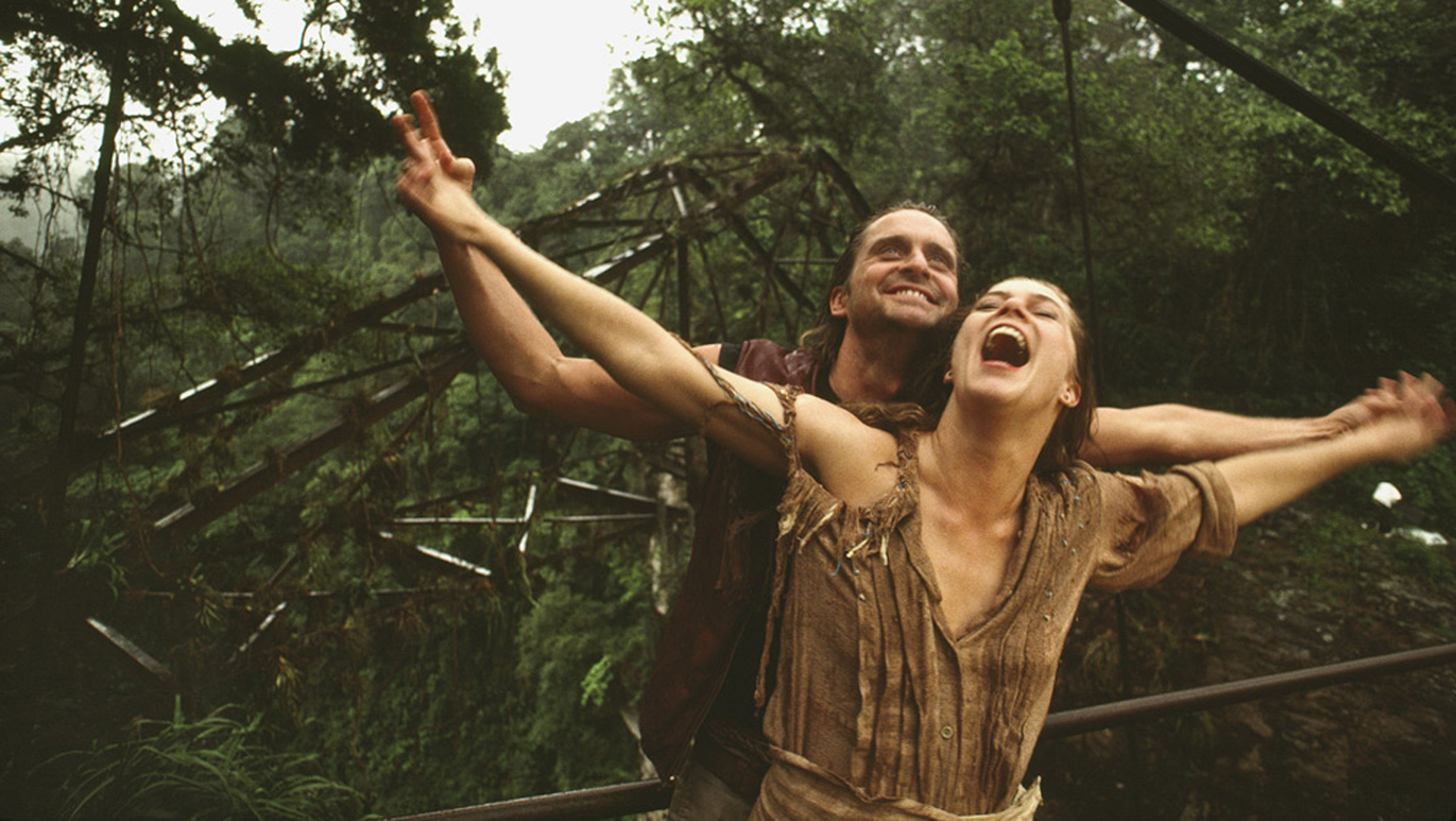 Film and Plot Synopsis
In Romancing the Stone, romance novelist Joan Wilder travels to south America to look for her sister whom someone kidnapped. She visits alone to exchange a map her sister mailed her in return for her sister's safety. However, when she winds up abandoned on a muddy dirt road in the rain forest, she meets Jack Colton. An eccentric bird smuggler and ex soldier-of-fortune, Colton agrees to bring her back to civilization for a price. They soon begin an adventure that could come from one of Joan's novels, and end up falling in love.
Buy the Film
Romancing the Stone [Blu-ray]
18 new from $2.99
15 used from $2.89
Free shipping
as of May 20, 2022 10:00 pm
*As an Amazon Associate we earn from qualifying purchases.
'Romancing the Stone' Movie Summary
The summary below contains spoilers.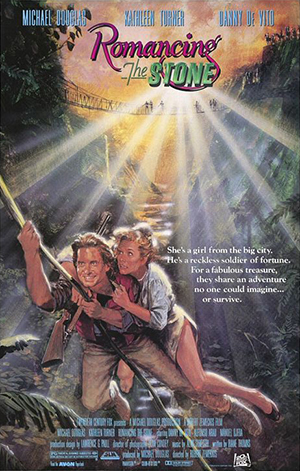 Romancing the Stone
begins when Romance novelist, Joan Wilder (
Kathleen Turner
), rushes off to Cartagena, Colombia. She needs to help free her sister, Elaine (
Mary Ellen Trainor
), some small-time smugglers kidnapped. They're looking for a treasure map that Elaine's recently murdered husband mailed to Joan before his death.
Once in Columbia, the evil Colonel Zolo (Manuel Ojeda), the very man responsible for Elaine's husband's death, tricks Joan into taking the wrong bus to Cartagena. Once they are in the middle of the inhospitable jungle, their bus crashes. The passengers flee the scene with their livestock—leaving Zolo alone with Joan. He takes this opportunity to kill her for the map. However, a mysterious bird smuggler named Jack T. Colton (Michael Douglas) is nearby, and he swoops down from lush hills to thwart Zolo's attack.
An adventure fit for a romance novel begins
Joan then pays Jack $375 to get her out of the jungle, and to the nearest pay phone so she can call her sister's captors. Along the way, they stumble upon a smuggler's plane that crashed some time ago, and discover that it is full of marijuana. They decide to stay the night there in relative safety, and smoke the night away. In the morning, they meet Juan (Alfonso Arau), the drug lord the crashed plane was smuggling for. It turns out, he is a big, big fan of Joan Wilder's novels. He helps them escape Zolo, and his private army, in his Ford Bronco that he affectionately calls his Little Mule.
They end up in a small village where Joan arranges to meet her sister's kidnappers. Jack, on the other hand, gets busy seducing Joan Wilder with a night of romantic dancing. After some south-of-the-border boning, he convinces Joan to find the treasure, referred to as El Corazon or the Heart.
They manage to find the treasure which turns out to be a big, green emerald in the shape of you guessed it, a heart, but before they can flee, Ralph (Danny DeVito), one of Elain's kidnappers, appears. He takes the booty, but before Ralph can flee, Zolo and his troops appear. When try to capture everyone, Jack snatches back the emerald from Ralph, and then escapes with Joan over a waterfall.
Joan and Ira make the exchange
While they both survive the fall, they end up on opposite sides of an impassible river. Joan and the map are on one side while Jack and the treasure are on the other. Jack tells Joan to trust him, and he will meet her in Cartagena with the treasure. Reluctantly, Joan agrees, and she seeks out the head kidnapper named Ira (Zack Norman)—not a very villainous name if you ask me.
Joan gives Ira the map, and Ira returns Elaine. However, before anyone can flee, Zolo and his merry men appear with Jack T. Colton and Ralph in tow. An '80s style fight ensues before Jack reveals he has Joan's corazon wrapped around his dick. The little treasure slides down his pant leg and onto his boot. Jack flings it in the air, and Zolo catches it before it falls into a pit of hungry crocodiles with big snappers. Unfortunately for Zolo, one of the crocs jumps up out of the water, and bites off his hand with the emerald still in it.
Jack runs after the croc to get back what he worked so hard to steal. While he struggles to keep the big crocodile from sliding into the ocean, Joan and Elaine fight it out with Zolo. Jack lets go of the crocodile, and tries to scale a stone wall to save his other love, but it's unnecessary. Joan manages to sidestep Zolo when he charges her, and he falls into the crocodile pit. They eat him alive like a chocodile! Now that Joan's safe, Jack gives her a big kiss. He then tells her not to let the cops he was there, and jumps back into the water to get that emerald.
All smiles in New York City
Joan goes back to her home in New York City. There she writes her greatest novel based on the experience she just had. However, it's not a sad ending for our romance novelist! Jack magically reappears in front of her house one day with a brand now boat, and a pair of genuine crocodile boots. The two set sail on a new life, and live happily ever after, or until they make a crappy sequel about a jewel of the Nile that takes place six months after this film.
Additional Film Information
Rate the Film!
Twentieth Century Fox released Romancing the Stone to theaters on March 30, 1984. Robert Zemeckis directs the film which stars Michael Douglas, Kathleen Turner, and Danny DeVito.