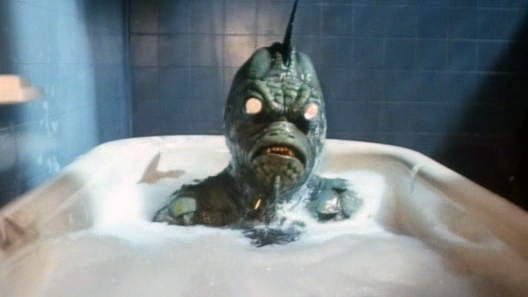 Did you think you were the only one who saw Saturday the 14th? Do your friends call you a liar when you tell them this film exists? Well then, this review is for you!
New World Pictures released Saturday the 14th on October 30, 1981. Howard R. Cohen of Vampire Hookers, Deathstalker, and the Rainbow Brite TV series fame directed the film. That's right. Howard Cohen worked on Vampire Hookers and Rainbow Brite in the 80s. Let that sink in for a second. This comedey/horror/spoof stars the husband and wife team of Richard Benjamin and Paula Prentiss along with Jeffrey Tambor, Severn Darden, and Kari Michaelsen.
If you think things get bad on Friday the 13th, well, just wait for what happens the day after! When John and Mary inherit a cursed house in Eerie, PA, they move their family there to live a quiet life in the suburbs. Unfortunately for them, their son, Billy, finds the BOOK OF EVIL which unleashes all Hell upon their little world. Two vampires, Waldemar and Yolanda, compete with Van Helsing, an evil exterminator, over possession of the book. Van Helsing wants to use the book to take over the world, and the vampires, they probably want the same thing. Either way John and Mary's family will lose if anyone gets the book before it can be destroyed.
On paper, this piece of cheese doesn't sound like a half bad movie, except the acting is terrible. The cinematography is horrible, and the editing is even worse. Throw in a poorly-written script, an attempt at 'Airplane' style humor, and the passage of 36 years, and you have a nostalgic turd.
Having said all that, I enjoyed watching this film. Don't ask me why, but I laughed a lot. No one who made this film was taking it too seriously, and although Richard Benjamin's time on screen is unbearable at times, Jeffrey Tambor's performance is great considering what he was given. He and Van Helsing have some great one-liners. Kari Michaelsen has an entertaining bath scene complete with a rubber duckie that doesn't float, and a bubble bra to cover up that under-aged nudity. Saturday the 14th is very dated at this point. You'll notice it as soon as the opening credits start. You'll wonder how the thing ever got made, but there's a lot of stupid humor in it, and at 75 minutes, it's worth a watch at least once. So, if you're in the market for a cheesy film, check out Saturday the 14th.
Rate the Film!
New World Pictures released Saturday the 14th on August 14, 1981. Howard R. Cohen directed the film starring Richard Benjamin, Paula Prentiss, and Jeffrey Tambor.