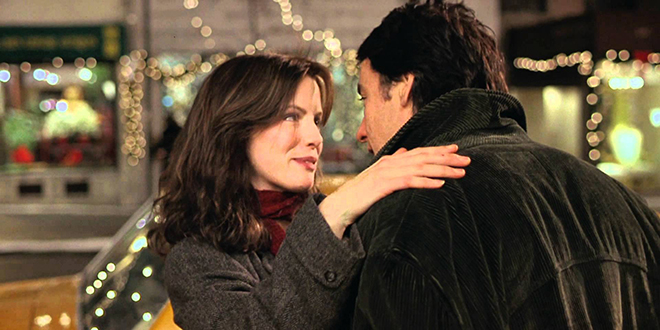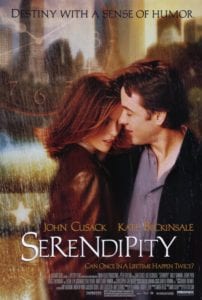 One of my favorite Rom-Coms ever!
This is one of those movies where it doesn't matter how many times you watch it (more than 20 in my case), you'll enjoy it just as much the next time as the first. Yes, the plot has the writer pulling all kinds of "destiny" strings to weave a fun, light, romantic story. That is forgiven for the joy I get at every viewing.
The basic premise is of two star-crossed lovers who are meant to be together with their human beliefs pushing them apart while the rest of the universe is trying to push them back together where they belong. It is so much fun watching this special pairing of John Cusack and Kate Beckinsale at their all-time best.
This is classic John Cusack – the tortured, intelligent soul who falls for the perfect girl, then watches her disappear by her own "destiny" devices which crushes him. Five years later, he's engaged to someone else but can never get his perceived soul-mate out of his mind. There are times where Cusack (whom I adore) will overact/appear schizophrenic and sociopathic in some romantic comedies. This, however, is one of his best. He's simply believable and sympathetic in his quest to put right what went wrong so many years before.
Kate Beckinsale — With the exception of her character's "destiny-speak" at the opening, she's the most perfect leading lady in which Cusack will drop anything (and actually, everything if you think about it) to finally track down and begin a life together. Charming, beautiful, intelligent, flawed, strong… She's exceptional.
Now, add Molly Shannon and Jeremy Piven as the equally-neurotic best friends of both our heroes, plus the added joy of watching the ever-reliable funnyman, Eugene Levy, stealing every scene in the Bloomingdale's search… The casting director deserves an honorary "Well done!" for their choices. Throw in the amazing New York skyline and Central Park in all it's splendor…
This movie may not be perfect. But if you are thinking of watching a movie with your significant other to make you laugh, cry, hold onto one another in a romantic embrace so they never, ever go away… This is that movie. It never gets old. It seems fresh every time I see it. A great example was my 14yo foster daughter watching this for the first time. Her reaction as the lead characters miss each other by inches once again was – "I HATE this movie!!!"… Only to have her at the end tell me how much she LOVED the movie. It was awesome!!
It isn't perfect, but compared to all the recent "The Notebook"-knockoffs filling up movie theaters and video rentals at an alarming rate considering they are neither good NOR romantic, I'd recommend renting this again simply for the "feel-good" factor. 9 out of 10 for sheer pleasantness and simplicity that makes me smile at the end every time.
What do you think of the film? Let us know in the comments below.
Disclaimer: Affiliate links contained in this post will take you to Amazon.com and/or the iTunes Store. This Means when you click a link, and purchase an item, the MHM Podcast Network will receive an affiliate commission. Advertisers and Affiliate Partnerships do not influence our content. See our Terms of Use about the inclusion of affiliate links on this site for more information.
MHM's Rating
A couple search for each other years after the night they first met, fell in love, and separated, convinced that one day they'd end up together.