Film and Plot Synopsis
A mild-mannered Uber driver named Stu picks up a grizzled detective who is hot on the trail of a sadistic, bloodthirsty terrorist and finds himself thrust into a harrowing ordeal where he has to keep his wits, himself unharmed, and work with his passenger while maintaining his high-class rating.
Buy the Film
Stuber 4k Ultra Hd [4K UHD]
6 new from $17.99
8 used from $10.94
Free shipping
as of December 6, 2023 3:14 pm
*As an Amazon Associate we earn from qualifying purchases.
'Stuber' Movie Summary
The summary below contains spoilers.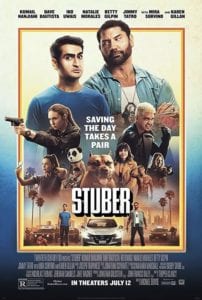 Vic Manning (
Dave Bautista
) is a Los Angeles Police Department detective on the hunt for notorious drug lord Oka Tedjo (
Iko Uwais
). Vic and his rookie partner Sara Morris (
Karen Gillan
) track Tedjo down to a local hotel. A shootout ensues and Sara is killed. Tedjo escapes after killing the detective. Vic's deteriorating eyesight is a contributing factor in Sara's death and Vic carries guilt for his failure to prevent her murder.
Six months later, Vic is still obsessing over Tedjo. His captain, Angie McHenry (Mira Sorvino), informs him that the Tedjo investigation is being turned over to the Feds. Even worse, Vic is ordered to take a few days off while he gets laser eye surgery to correct his vision. Vic's adult daughter, Nicole, brings him home after the procedure. Vic and Nicole are estranged due to Vic's dedication to his job. Vic's post-operative instructions include resting, avoiding strenuous activities, and not driving.
However, Vic's day off is interrupted by a call from an informant named Leon (Amin Joseph). Leon informs Vic that Tedjo is back in town. Vic tells Leon to wait at a warehouse and calls for an Uber to drive him to the location. Vic's Uber driver is Stu Prasad (Kumail Nanjiani), a quiet but polite owner of a Prius who is obsessed with getting a five star review in the app. Stu wants to drop Vic off as soon as possible so he can go to his friend Becca's (Betty Gilpin) house. A drunk and distraught Becca has broken up with her boyfriend and wants Stu to come over to have sex with her. However, Stu is more interested in having a relationship with Becca whom he has longed for from a far for years.
Vic is a demanding rider and insists Stu wait for him wherever he goes. Vic holds the threat of a negative review over Stu's head. Vic arrives at the warehouse and finds Leon has been killed. Vic then leads Stu all over the Los Angeles area, including Koreatown, a male strip club, and a house in Long Beach where Vic detains a key suspect and rescues an abused Pit Bull Terrier named Pico. Stu accidentally shoots the suspect in his car while he is trying to find out information about Tedjo. Vic has Stu drive to a veterinarian to patch up the suspect. At the vet, Vic and Stu are confronted by a hit team dispatched by Tedjo to kill them. Stu helps Vic target the assassins who shoots them all using only his hearing.
Vic uses one of the hitmen's phone to send a message to their leader that they were successful in killing the detective. Vic then heads to his daughter's art exhibition to warn her that she may have become a target for Tedjo's gang and gives her a gun. Throughout their trip, Stu and Vic fight with each other. Stu calls Vic out for his toxic masculinity and inability to connect with his daughter. Vic confronts Stu for his inability to man up and confess his feelings for Becca.
Eventually, Stu and Vic ascertain Tedjo's location. Vic calls Captain McHenry to request back up. Stu drives Vic to the drop site and then begins to head off to Becca's house. While in route, Stu calls Becca and confesses his love for her. However, he realizes that a relationship will never work between the two of them since Becca does not return his feelings. Stu tells her that not only will he not come over to her house, but that they shouldn't even be friends. Meanwhile, Captain McHenry arrives at Vic's location and reveals that she is the ring leader for the criminal organization and that Tedjo works for her. She also reveals that she was planning to frame Vic for the murder of Leon to get him off their trail.
Stu returns and hits McHenry with his car. Vic jumps into the Prius and the two men attempt to get away from Tedjo. The outlaw runs them off the road causing Stu to roll the Prius. Vic and Stu continue to run on foot with Tedjo in pursuit. Eventually, Tedjo catches up to them and prepares to kill them both. Nicole arrives, having tracked Stu's car via the Uber app. She shoots Tedjo with a gun that Vic gave her. The outlaw tries to shoot Nicole, but Stu jumps in the path of the bullet and receives a wound in the shoulder. Vic gets his hands on Tedjo and nearly kills him until he is stopped by Nicole. The police arrive and arrest Tedjo.
As Stu and Vic recover in the hospital, Vic gives Stu a five-star review on the Uber app. In exchange, Stu bills Vic's credit card for the driving fare of $5,534.95. In the aftermath, Becca begins a successful spin biking business without Stu. Nicole and Stu begin a relationship together and Vic comes to their house for Christmas dinner with Pico the Pit Bull.
Additional Film Information
Rate the Film!
Twentieth Century Fox released Stuber on July 12, 2019. Michael Dowse directed the film starring Dave Bautista, Kumail Nanjiani, and Mira Sorvino.