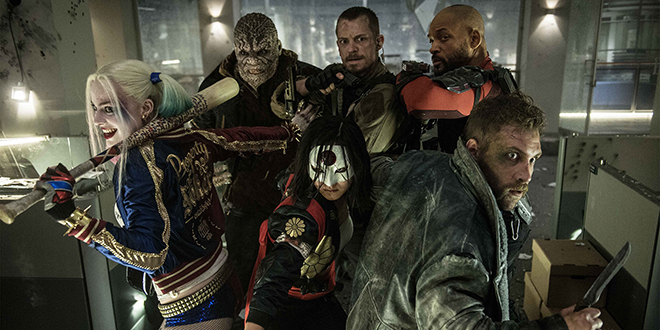 Trailers
Suicide Squad – Comic Con Trailer
Warner Bros. Pictures has officially released the Comic-Con trailer for Suicide Squad after previously announcing that the footage would not be made available online. However, the sheer number of poor quality "bootleg" versions of the trailer have caused the studio to reconsider.
Sue Kroll, President Worldwide Marketing and International Distribution, Warner Bros. Pictures said the following in a statement: "Warner Bros. Pictures and our anti-piracy team have worked tirelessly over the last 48 hours to contain the Suicide Squad footage that was pirated from Hall H on Saturday. We have been unable to achieve that goal. Today we will release the same footage that has been illegally circulating on the web, in the form it was created and high quality with which it was intended to be enjoyed. We regret this decision as it was our intention to keep the footage as a unique experience for the Comic Con crowd, but we cannot continue to allow the film to be represented by the poor quality of the pirated footage stolen from our presentation."
The film stars Will Smith as Deadshot, Joel Kinnaman as Rick Flagg, Margot Robbie as Harley Quinn, Jai Courtney as Captain Boomerang, Cara Delevingne as Enchantress, Karen Fukuhara as Katana, Adewale Akinnuoye-Agbaje as Killer Croc, Jay Hernandez as El Diablo, Raymond Olubawale as King Shark, Adam Beach as Slipknot, Viola Davis as Amanda Waller,  and Jared Leto as the Joker. There's also mystery roles for Ike Barinholtz, Scott Eastwood, Alex Meraz, Jim Parrack, and Common. It is also rumored that Ben Affleck may make an appearance in the film as either Batman or Bruce Wayne, and based on the trailer, it appears it maybe the former. Suicide Squad will be the third film in DC Comics expanded cinematic universe. The film is written and directed by David Ayer. 
In the film, a secret government agency run by Amanda Waller (Davis), named A.R.G.U.S creates a task force comprised of super villains, the "Suicide Squad". They are assigned to execute dangerous tasks in exchange for shorter prison sentences.
Suicide Squad will shoot until September for an August 5, 2016 release.
Here is the Comic-Con trailer for Suicide Squad, courtesy of MovieClips Trailers.
Source: MovieClips Trailers