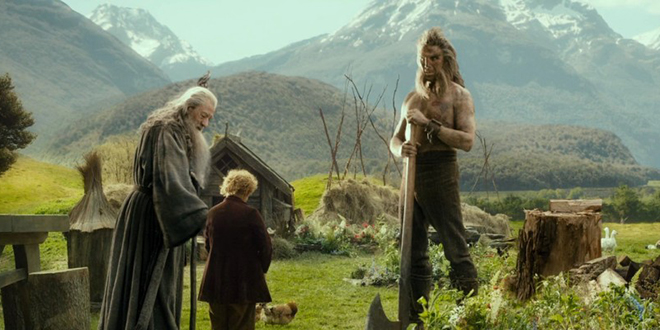 Warner Bros. Pictures has released the first theatrical trailer for the upcoming blockbuster sequel The Hobbit: The Desolation of Smaug. The film is once again directed by Peter Jackson and is based on the classic novel by J.R.R. Tolkien. The middle chapter in the planned trilogy stars Martin Freeman, Ian McKellen, Richard Armitage, Evangeline Lilly, Benedict Cumberbatch, Hugo Weaving, Cate Blanchett, Elijah Wood, Billy Connolly, Andy Serkis, and Luke Evans.
The Hobbit: The Desolation of Smaug continues the adventure of the title character Bilbo Baggins (Freeman) as he journeys with the Wizard Gandalf (McKellen) and thirteen Dwarves, led by Thorin Oakenshield (Armitage) on an epic quest to reclaim the lost Dwarf Kingdom of Erebor.
The Hobbit: The Desolation of Smaug hits theaters on December 13 of this year while The Hobbit: There and Back Again concludes Peter Jackson's second J.R.R. Tolkien trilogy on December 17, 2014.
Theatrical Trailer For The Hobbit: The Desolation of Smaug  courtesy of The JoBlo Movie Network
Source: Warner Bros. Pictures