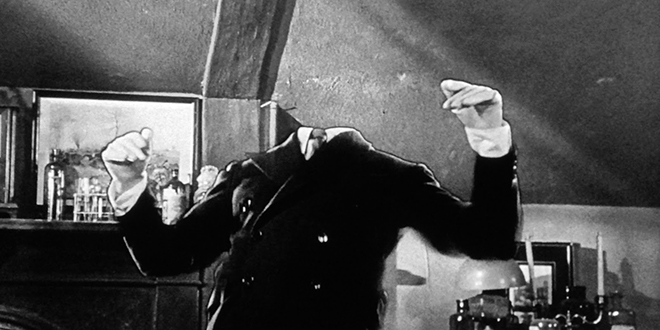 MHM Mart
The Invisible Man (1933) Appears on Blu-ray
The Invisible Man (1933) [Blu-ray]
12 new from $13.87
5 used from $8.47
Free shipping
as of March 9, 2022 2:28 pm
Universal Studios Home Entertainment has announced that they are adding The Invisible Man to their upcoming slate of Blu-ray releases. The film was directed by James Whale and stars  Claude Rains, Gloria Stuart, Henry Travers, Una O'Connor, William Harrigan, and Forrester Harvey. The Invisible Man will be available in stores and online June 4, 2013.
The signature adaptation of H.G. Wells' novel of the same name stars Claude Rains as a mysterious scientist who discovers a serum that turns him invisible. Covered by bandages and dark glasses, the scientist arrives at a small English village and attempts to hide his amazing discovery. He soon discovers, however, that the same drug which renders him invisible is slowly driving him insane and making him capable of committing unspeakable acts of terror. Directed by James Whale, the horror classic features groundbreaking special effects by John P. Fulton that inspired many of the techniques that are still used today.
The Invisible Man was released on November 13, 1933.
The Blu-ray edition of The Invisible Man features a DTS-HD Master Audio 2.0 Mono track and the following extras:
Feature Commentary with Film Historian Rudy Behlmer
Now You See Him: The Invisible Man Revealed
Production Photographs
Trailer Gallery
100 Years of Universal: Unforgettable Characters
Disclaimer: Affiliate links are contained in this post. This means when you click a link, and purchase an item, Movie House Memories will receive an affiliate commission. Advertisers and Affiliate Partnerships do not influence our content. See our
Terms of Use
about the inclusion of affiliate links on this site for more information.