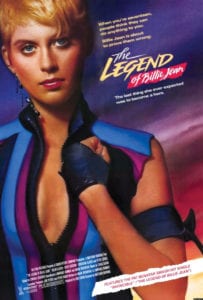 Helen Slater and Pat Benatar's "Invincible" = Awesome 80s flick
I recently purchased the special edition "Fair Is Fair" DVD version of "The Legend of Billie Jean". Partly because I thought it was a fun flashback to the 80s when I thought this movie was so cutting-edge cool when I was still a teenager, partly because it had a soundtrack commentary by stars Helen Slater and Yeardley Smith. I wasn't disappointed.
I will say I've watched this movie more than a few times. Each time I am kinda in awe of how blonde and stunning Helen is. She was (still is) a beautiful actress. "City Slickers", "The Secret of My Success" both cast her as the sexy co-star and for good reason. Her sexiness is without question in this movie. This is one of Christian Slater's (no relation) first movies and he's exactly what you'd expect him to be at 15 years old. Yeardley Smith is and always has been a gifted ugly duckling that is as adorable as they get. This is no different. Priceless casting.
The story is fairly silly and formulaic. A teenage girl and her brother have their motor scooter trashed by some bullies. The girl goes to the bully's father and demands money for the damages. The dad is worse than the son. They struggle. An accident occurs. The kids go on the lam. Good cop who can read between the lines trails the kids like a bloodhound. Kids become famous outlaws. Big climax at the end. Standard teenage 80s stuff. And it's worth every second of screen time!!!
Watching the DVD with the voice-over soundtrack by both Helen and Yeardley made me laugh out loud a few times. It was hilarious listening to these two friends banter back and forth about who did what when and where, the horrible 80s styles and hair now that they're mothers themselves, how their daughters won't even watch it out of sheer horror their mothers were rebellious teenagers (Helen – "We're five minutes into the movie and my daughter has already left." – funny stuff), etc… The fact Helen didn't remember the real actress' name of her own mother character in the movie (Mona Lee Fultz) tells you how raw this audio take is. No editing, just middle-age friends talking into a microphone. It's genuine and even better than this classic 80s flick by itself.
The movie is dated, even ridiculous in some cases, and totally awesome (yes, an 80s term)! How can you not sing a few bars of Pat Benatar's "Invincible" in this fantastically cheesy movie? It's self-consciously teeny throughout. Even the adults act more like enabling or overbearing parents than real adults. It's cheerful, uplifting, cool and just plain fun to watch. The writing is irrelevant. Holes in the plot are beside the point. Sit back, slide this piece of 80s nostalgia into your DVD player, put on your headphones, pump up the volume on the headphones at all the right places, and just enjoy the experience.
Billie Jean RULES!!! 🙂
What do you think of the film? Let us know in the comments below.
Disclaimer: Affiliate links contained in this post will take you to Amazon.com and/or the iTunes Store. This Means when you click a link, and purchase an item, the MHM Podcast Network will receive an affiliate commission. Advertisers and Affiliate Partnerships do not influence our content. See our Terms of Use about the inclusion of affiliate links on this site for more information.
MHM's Rating
A Texas teenager cuts her hair short and becomes an outlaw martyr with her brother and friends.