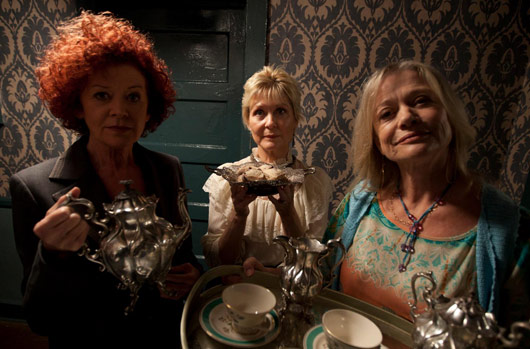 Alliance Films has released the second theatrical trailer for Rob Zombie's The Lords of Salem. The horror/thriller stars Patricia Quinn, Maria Conchita Alonza, Clint Howard, Dee Wallace, Bruce Davison, and Jeff Daniel Phillips. The film opens in the theaters everywhere beginning on April 19, 2013.
From the singular mind of horror maestro Rob Zombie comes a chilling plunge into a nightmare world where evil runs in the blood. "The Lords of Salem" tells the tale of Heidi (Sheri Moon Zombie), a radio station DJ living in Salem, Massachusetts, who receives a strange wooden box containing a record, a "gift from the Lords." Heidi listens, and the bizarre sounds within the grooves immediately trigger flashbacks of the town's violent past. Is Heidi going mad, or are the "Lords of Salem" returning for revenge on modern-day Salem?
Here is the theatrical trailer for The Lords of Salem, courtesy of The Jo Blo Movie Network.
Source: RobZombie.com