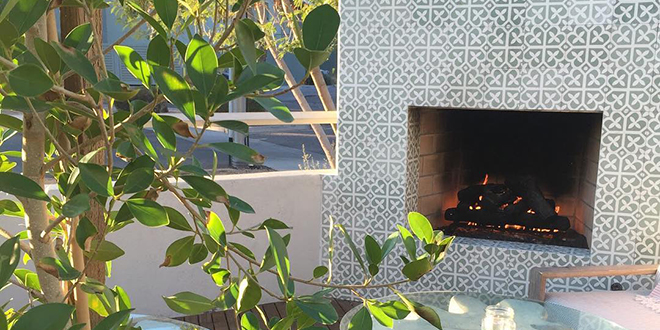 "Why the hell are both of the liner pockets on the left side of this blazer?" I asked myself as I was fumbling for my headphones while tucking the flask of gin in. A couple on the sidewalk stares at me while I discover the dimensions of my formal wear. I calm down as I start walking and 'Homemade Dynamite' pulses through my ears. Tonight is warm….well, too warm for a mid December stroll.
The establishment is empty besides the six top sitting in the lounge finishing up. I stroll to the bar and grab a seat facing the patio. The presentation is impressive. The patio windows open up as if you're sitting on a beachfront facing the Atlantic. I order a gin from the stereotypical cute bartender. She pours a mildly disappointing glass with a single oversized ice cube. Staring down at my phone while I ponder my agenda, I hear live notes behind me. I turn around to discover that there is a piano in the lounge, and one of the employees is eeking out a few sounds from the untuned instrument. He gets up to leave, and I feel compelled. I haven't struck a chord in front of strangers in two years, but the tenth drink in provides a little bit of backbone to my confidence.
I flirt with the keys for a second to settle my nerves. I start playing 'Una Mattina.' About a quarter of the way through, the music in the bar stops. I am playing while simultaneously turning red from embarrassment. Am I not welcome right now? Are they closing up, and I am the weird guy in the bar? I keep playing. Two people come up behind me and stand at each side. I stop playing and ask if I am being intrusive. They introduce themselves as the chefs and told me they stopped the bar radio to hear some live music and buy me a drink. Gin. No fruit please.
In conclusion: This is my favorite corner in south Scottsdale. It makes me yearn for the days of walking aimlessly in a big city and drifting into places solo. The Montauk strums the strings of the inner romantic.
What do you think of The Montauk Lounge? Let us know in the comments below.
Guest Review by Anthony Tellez.
Disclaimer: Opinions expressed are solely Anthony Tellez's and do not express the views or opinions of the MHM Podcast Network and Fuzzy Bunny Slippers Entertainment LLC.