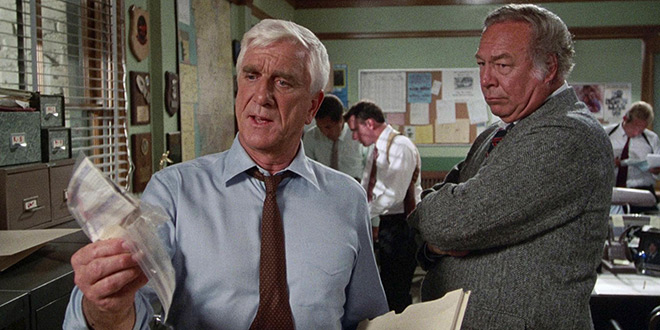 Podcast: Play in new window | Download
Subscribe: Apple Podcasts | Android | Google Play | Stitcher | RSS | More
Paramount Pictures released The Naked Gun: From the Files of Police Squad! to theaters on December 2, 1988. David Zucker directed the film which starred Leslie Nielsen, Priscilla Presley, and Ricardo Montalban.
'The Naked Gun: From the Files of Police Squad!' Movie Summary
Upon returning home from busting enemies of state on his vacation in Beirut, Lt. Frank Drebin finds that his girlfriend has left him for an Olympic gymnast, and his former partner Nordberg has been shot and is suspected of dealing heroine. The Queen of England is set to visit Los Angeles, so Frank has 24 hours to clear Nordberg's name.
Frank investigates local big shot Vincent Ludwig and leaves with honey pot, Jane Spencer, on his trail. Jane gets close to Frank, and the two fall in love. Vincent, however, plans to assassinate the Queen in Los Angeles. After Frank botches what he thinks is an assassination attempt on the Queen, he is fired from Police Squad. Jane tells him that Lugwig plans to assassinate the Queen at the Angels game, and Frank moves into action.
Frank gets close to the players by posing as an opera singer and an umpire. During the seventh inning stretch, Ludwig activates his assassin, and Reggie Jackson moves to kill the Queen. Franks drop a fat lady on Reggie Jackson, and Ludwig takes Jane hostage. Frank hits Ludwig with a tranquilizer dart, and he falls off a ledge, gets run over by a steam roller, a bus, and the USC marching band playing Louie Louie. Jane then turns to kill Frank under a hypnotic spell, but finds her love for him is too powerful. She breaks the spell just in time for Frank is inadvertently throw Nordberg from the upper deck at Dodger Stadium.
Disclaimer
This podcast is not endorsed by Paramount Home Video, and is intended for entertainment and information purposes only. The Naked Gun: From the Files of Police Squad!, all names and sounds of The Naked Gun: From the Files of Police Squad! characters, and any other The Naked Gun: From the Files of Police Squad! related items are registered trademarks and/or copyrights of Paramount Home Video or their respective trademark and/or copyright holders. All original content of this podcast is the intellectual property of Movie House Memories, the MHM Podcast Network, and Fuzzy Bunny Slippers Entertainment LLC. unless otherwise noted.
Affiliate links contained in this post will take you to Amazon.com and/or the iTunes Store. This means when you click a link, and purchase an item, the MHM Podcast Network will receive an affiliate commission. Advertisers and Affiliate Partnerships do not influence our content. See our Terms of Use about the inclusion of affiliate links on this site for more information.