Blogsville
The Top 10 Greatest Football Movies Ever!
I know you all are ready for some football, and with the college and pro seasons upon us, we here at Movie House Memories thought it would be a good time to look at the top 10 films inspired by the gridiron.
#10 Heaven Can Wait (1978)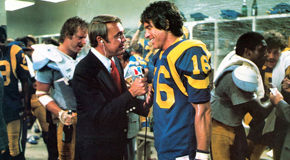 Warren Beatty stars and directs this comedy about a Los Angeles Ram player who dies in an accident after a new angel plucks him out of his body before his death is certain. He is then sent back to Earth in the body of a millionaire whose wife wants to kill him.
#9 We Are Marshall (2006)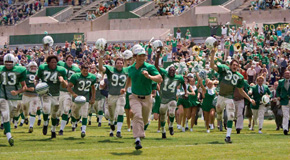 On November 14, 1970, Southern Airways Flight 932 crashed, killing 37 football players, five coaches, two athletic trainers, the athletic director, 25 boosters, and the crew. This film explores the aftermath, and how the community and program rebuilt their lives.
#8 The Longest Yard (1974)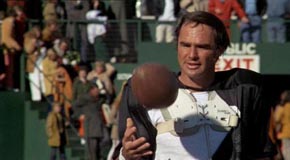 A dramedy, starring Burt reynolds, about inmates who play football against their guards at Citrus State Prison in Florida.
#7 Jerry Maguire (1996)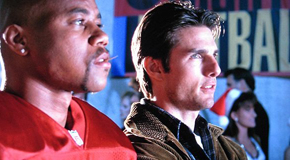 Sports agent Jerry Maguire finds his conscious which gets him fired at his job with Sports Management International. He decides to go solo, testing new moral philosophy, but only Rod Tidwell gives him the chance to succeed.
#6 Rudy (1993)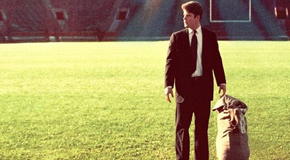 The real life account of Daniel "Rudy" Ruettiger, who harbors dreams of playing football at the University of Notre Dame even though he lacks the grades, the money, the size and talent to be there.
#5 Friday Night Lights (2004)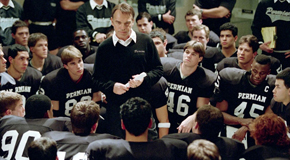 A drama based on H.G. Bissinger's book Friday Night Lights: A Town, a team, and a Dream that documents the coach and players of Permian High School Panthers high school football team in Odessa, Texas that makes a run at the state championship.
#4 Horse Feathers (1932)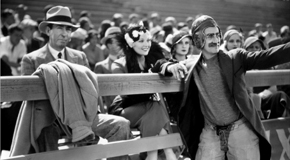 A comedy starring the Marx brothers: Groucho, Chico, Harpo, and Zeppo which involves a college football game between Darwin and Huxley Colleges.
#3 The Blind Side (2009)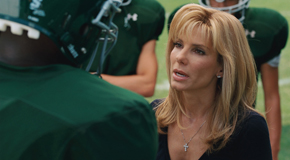 Based on the true story of Michael Oher, a homeless boy with no hopes of a future, but eventually became an All American football player, and first round NFL draft pick of the Baltimore Ravens after a caring family with a strong mother took him in.
#2 Remember the Titans (2000)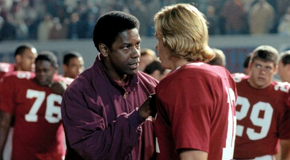 Based on the true story of African American coach Herman Boone who tries to introduce a racially divided team at the segregated T. C. Williams High School in Alexandria, Virginia in 1971.
#1 Brian's Song (1971)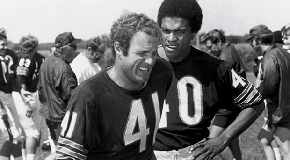 An ABC Movie of the Week that is based on the true story of Brian Piccolo, a Wake Forest University football player, who was diagnosed with terminal cancer shortly after turning pro. The account is told from the point of view of his friend, Pro Football Hall of Famer Gale Sayers, who helped Piccolo with his battle until his death at the age of 26.