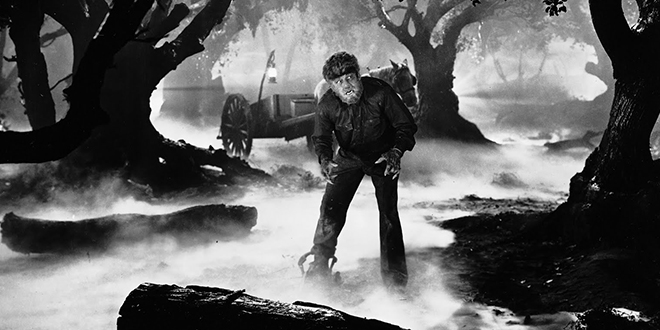 MHM Mart
The Wolf Man (1941) Changes Into Blu-ray
The Wolf Man [Blu-ray]
15 new from $13.98
10 used from $7.92
Free shipping
as of May 7, 2022 6:05 pm
Universal Pictures Home Entertainment has announced that addition of the classic horror film The Wolf Man to their upcoming slate of Blu-ray releases. The film was directed by George Waggner and starred Lon Chaney Jr., Claude Rains, Ralph Bellamy, Warren William, and Bela Lugosi. The Wolf Man will be available for purchase online and in stores beginning on September 17th.
"Even a man who is pure in heart and says his prayers by night may become a wolf when the wolfbane blooms and the autumn moon is bright". In 1941, The Wolf Man introduced the world to a new Universal movie monster and the mythology of the werewolf was redefined forever. Featuring a heartbreaking performance by Chaney Jr. and groundbreaking make-up by Jack Pierce, this story of a cursed man who transforms into a deadly werewolf when the moon is full has become a masterpiece of the horror genre.
The Blu-ray edition of The Wolf Man features a DTS-HD Master Audio 2.0 Mono track and the following extras:
Feature Commentary with Film Historian Tom Weaver
Monster by Moonlight
The Wolf Man: From Ancient Curse to Modern Myth
Pure in Heart: The Life and Legacy of Lon Chaney, Jr.
He Who Made Monsters: The Life and Art of Jack Pierce
The Wolf Man Archives
Trailer Gallery
100 Years of Universal: The Lot
Disclaimer: Affiliate links are contained in this post. This means when you click a link, and purchase an item, Movie House Memories will receive an affiliate commission. Advertisers and Affiliate Partnerships do not influence our content. See our
Terms of Use
about the inclusion of affiliate links on this site for more information.