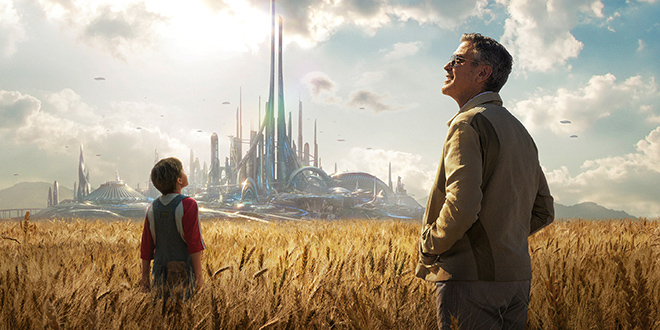 Walt Disney Pictures has released a theatrical trailer for Tomorrowland, their upcoming science fiction adventure.  
The film is a riveting mystery adventure starring Academy Award-winner George Clooney. Bound by a shared destiny, former boy-genius Frank (Clooney), jaded by disillusionment, and Casey (Britt Robertson), a bright, optimistic teen bursting with scientific curiosity, embark on a danger-filled mission to unearth the secrets of an enigmatic place somewhere in time and space known only as "Tomorrowland." What they must do there changes the world – and them – forever.
The film is directed by Brad Bird and is based on a screenplay by Damon Lindelof and Bird, from a story by Lindelof & Bird & Jeff Jensen. The film also stars Hugh Laurie as brilliant scientist David Nix, Raffey Cassidy Tim McGraw, Judy Greer, Kathryn Hahn, Keegan-Michael Key, and Thomas Robinson.
Tomorrowland will debut in theaters on May 22, 2015.
Here is the theatrical trailer for Tomorrowland, courtesy of MOVIECLIPS Trailers.
Courtesy of MOVIECLIPS Trailers