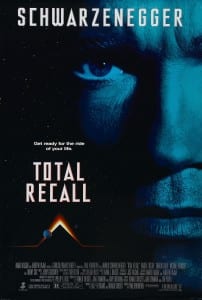 TriStar Pictures' teaser trailer for 1990's Total Recall. Paul Verhoeven directed the film starring Arnold Schwarzenegger, Sharon Stone, Michael Ironside. Ronald Shusett, Dan O'Bannon, and Gary Goldman wrote the screenplay based on Philip K. Dick's We Can Remember It For You Wholesale.
The film opened on June 1, 1990.
'Total Recall' Synopsis
Douglas Quaid is a construction worker in 2084 with haunting dreams of Mars. Against the wishes of his wife, Quaid goes to a company that implants artificial memories, so he can "remember" visiting the red planet. However, Quaid learns he's actually a secret agent from Mars—or is he?
Talks of a sequel
Due to the success of the movie, TriStar Pictures commissioned a sequel with the script title of Total Recall 2. Schwarzenegger's character now works as a reformed law enforcer.  The sequel was based on another Philip K Dick short story, The Minority Report. It involves a future where police solve crimes before criminals commit them. Martian mutants would be the film's clairvoyants. 
While the studio never made the movie, the script survived  with more elements from the original short story. Steven Spielberg eventually adapted The Minority Report as a science fiction thriller which opened in 2002 to box-office success and critical acclaim.