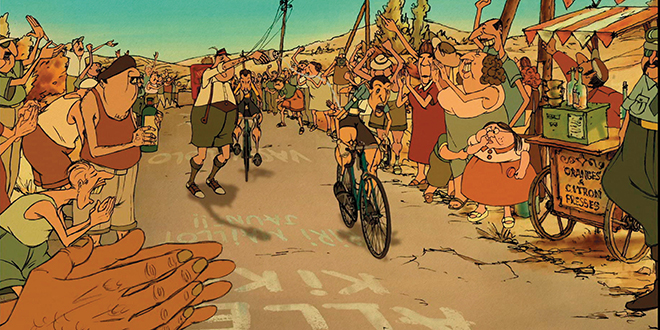 Podcast: Play in new window | Download
Subscribe: Apple Podcasts | Android | Google Play | Stitcher | RSS | More
Sony Pictures Classics released The Triplets of Belleville to theaters on June 11, 2003. Sylvain Chomet directed the film starring Michèle Caucheteux, Jean-Claude Donda, Michel Robin.
The Triplets of Belleville Movie Summary
Madame Souza raises her grandson, Champion and his dog Bruno alone in France circa 1926. Champion grows up to be a professional bicyclist. During the Tour de France, the French mafia kidnaps Champion and two other riders, and take them to Belleville—the French Metropolis.
Souza and her dog Bruno follow the gangsters to Belleville where she befriends three sisters. The Triplets of Belleville help Souza rescue Champion from the mobsters for a happy ending. The film ends with Champion, now elderly himself, reliving the story the his beloved grandmother told him. May she rest in peace.
Disclaimer
This podcast is not endorsed by Sony Pictures Classics, and is intended for entertainment and information purposes only. The Triplets of Belleville, all names and sounds of The Triplets of Belleville characters, and any other The Triplets of Belleville related items are registered trademarks and/or copyrights of Sony Pictures Classics or their respective trademark and/or copyright holders. All original content of this podcast is the intellectual property of Movie House Concessions, the MHM Podcast Network, and Fuzzy Bunny Slippers Entertainment LLC unless otherwise noted.
Affiliate links contained in this post will take you to Amazon.com and/or the iTunes Store. This means when you click a link, and purchase an item, the MHM Podcast Network will receive an affiliate commission. Advertisers and Affiliate Partnerships do not influence our content. See our Terms of Use about the inclusion of affiliate links on this site for more information.
---
---