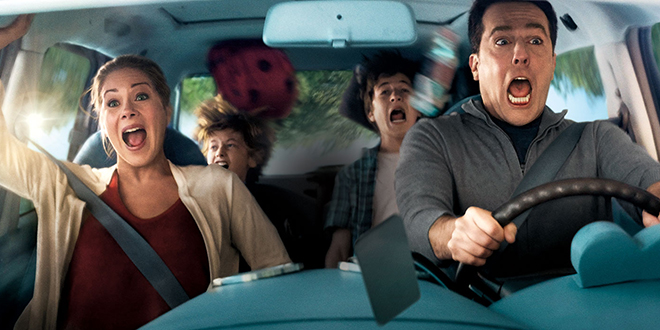 Trailers
Vacation (2015) Red Band Trailer
New Line Cinema has released a red band trailer for their upcoming comedy reboot Vacation. The film is scheduled to be released on July 29, 2015.
Following in his father's footsteps, a grown up Rusty Griswold (Ed Helms) is hoping for some much-needed family bonding and to recreate his childhood vacation for his own kids. Rusty takes his wife (Christina Applegate) and their two sons, James and Kevin (Skyler Gisondo and Steele Stebbins), on a cross-country road trip to the coolest theme park in America, Walley World. Needless to say, things don't go quite as planned.
The cast also includes Chris Hemsworth, Leslie Mann, Charlie Day, Ron Livingston, Norman Reedus, Keegan-Michael Key, and Regina Hall. Chevy Chase and Beverly D'Angelo are also reprising their roles as Clark and Ellen Griswold from the previous Vacation comedies.
The road comedy adventure marks the directorial debut of John Francis Daley and Jonathan M. Goldstein who wrote the script which is based on characters created by John Hughes.
Here is the red band trailer for Vacation, courtesy of Comedy Central.
Source: Comedy Central