Film and Plot Synopsis
In this fourth installment to the Vacation film series, Clark Griswold wants to take his family on another vacation after receiving a big bonus from his job. However, Clark wants to go to Las Vegas, Nevada to renew his wedding vows to his wife Ellen, while the rest of the family would like to go elsewhere. Once in Vegas, the Griswolds have a series of misadventures, accompanied by Cousin Eddie. However, when Clark loses all the family's money, will he be able to keep his family together or will he become another gambling statistic?
Buy the Film
Vegas Vacation (BD) [Blu-ray]
7 new from $13.99
2 used from $17.48
Free shipping
as of September 20, 2023 1:45 am
*As an Amazon Associate we earn from qualifying purchases.
'Vegas Vacation' Movie Summary
The summary below contains spoilers.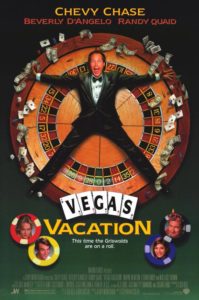 In this fourth installment to the Vacation series, Clark Griswold (
Chevy Chase
) earns a large bonus check from his boss Frank Shirley for inventing a long-life food preservative. He decides to celebrate by taking his family on another vacation. During this vacation, Clark states that he plans to renew his wedding vows to his wife Ellen (
Beverly D'Angelo
). However, the family is disappointed when Clark states that they are heading to Sin City itself, Las Vegas. Ellen and Clark's teenage daughter Audrey (
Marisol Nichols
) express their doubts since Las Vegas is not known for its family-friendly atmosphere, and Audrey is underage. However, Clark's son Rusty (
Ethan Embry
) is more enthusiastic about the idea.
The family arrives in Las Vegas and stays at the Mirage. They immediately begin a series of misadventures throughout the town. The family attends a Siegfried and Roy show, where the magicians make Clark disappear for a while. They visit Cousin Eddie (Randy Quaid), the husband of Ellen's cousin Catherine (Miriam Flynn), in his trailer in the irradiated Nevada desert. The Griswolds, along with Eddie and Catherine, take a tour of the Hoover Dam, where Clark nearly plummets to his death from the side of the dam. Once back at their hotel, they are given tickets to see a Wayne Newton concert and a lavish dress for Ellen, both sent by Wayne Newton himself after he saw Ellen in the casino the day before. They go to the concert where Wayne begins making the moves on Ellen, including bringing her up on stage to sing with him.
The next day, the family agrees to have an "alone day" where they each get to do what they want. Clark heads to the casino and becomes addicted to gambling. He constantly loses to a blackjack dealer (Wallace Shawn) who seems to take personal joy in Clark losing. Rusty purchases a fake ID from a Frank Sinatra impersonator (Toby Huss). With the ID in hand, he begins gambling and starts winning immediately. Now known as Nick Pappagiorgio, Rusty soon begins hanging with the high rollers and is constantly comped by the casinos. Ellen begins spending time with Wayne Newton, who expresses his feelings for her. Audrey begins hanging out with Eddie's daughter Vicki (Shae D'lyn) who teaches Audrey how to become an exotic dancer.
Clark's gambling soon becomes a problem and interferes with his ability to spend time with his family. Soon, he gambles away the family's entire bank account, leading Ellen and the kids to desert him. Rusty goes off and continues his own gambling, winning four cars. Meanwhile, Audrey goes to a strip club with Vicki and begins working as a go-go dancer. Desperate for cash, Clark turns to Eddie, who willing offers to help his friend. They return to Eddie's trailer in the desert and begin digging up various coffee cans of money that Eddie has randomly buried around the desert. Eddie and Clark take the money and go to the nearest casino with the strangest games. Clark manages to gamble away all of Eddie's money as well.
Completely broke, Clark begins to reevaluate his behavior and his choices. He realizes that the most important thing is getting his family back, not the money. Clark and Eddie then drive around Vegas and begin gathering the Griswolds back together. They find Ellen at Wayne Newton's house who forgives Clark after he states that he loves her and still wants to renew their vows. Ellen and Clark find Audrey at the dance club and Rusty in a high rollers comp room of the casino. Once back together, Clark informs his family that he gambled away their plane tickets. Ellen gives Clark the family's last two dollars and tells him to get their money back. Clark gambles it on a game of keno. While they are waiting for the numbers to be drawn, the Griswolds make friends with an elderly man (Sid Caesar) who compliments Clark on his family. The man hints that he has been lonely his whole life, and Clark tells him that he can consider himself part of the Griswold family for the night.
The keno drawing starts, and the Griswolds very quickly find themselves losers again. However, the old man begins to yell that he won before collapsing unconscious. The man slips in and out of consciousness before passing away. Before dying, he whispers to Clark that he should take his ticket. The hotel staff and paramedics take the body away and leave the winning ticket on the floor. The Griswolds struggle with what they should do before picking up the ticket. After claiming their winnings, Clark and Ellen renew their vows with Eddie, Cathryn, Audrey, and Rusty present. Afterwards, Clark gives Eddie $5,000 to repay his kindness. Rusty tells his father that he won four cars while gambling at the casino. Clark gives everyone a set of keys and they begin driving themselves back to Chicago.
Additional Film Information
Rate the Film!
Warner Bros. released Vegas Vacation on February 14, 1997. Stephen Kessler directed the film starring Chevy Chase, Beverly D'Angelo, and Randy Quaid.