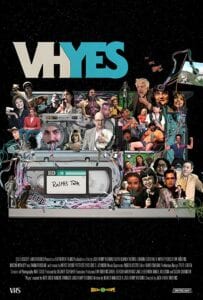 Oscilloscope released their official trailer for 2019's VHYes. Jack Henry Robbins directs the film starring Kerri Kenney, Thomas Lennon, and Mark Proksch.
The film opens in select theaters January 17, 2020.
'VHYes' Synopsis
A bizarre retro comedy shot entirely on VHS, VHYes takes us back to a simpler time, when twelve-year-old Ralph mistakenly records home videos and his favorite late night shows over his parents' wedding tape. The result is a nostalgic wave of home shopping clips, censored pornography, and nefarious true-crime tales that threaten to unkindly rewind Ralph's reality.