Film and Plot Synopsis
A sex scandal rocks the President of the United States days before the general election, and he now does not seem to have much of a chance of being re-elected. One of his advisers contacts a top Hollywood producer in order to manufacture a war in Albania which the president can heroically end… which will look great on television.
Buy the Film
Wag the Dog (New Line Platinum Series) (1997)
13 new from $6.69
33 used from $2.59
Free shipping
as of September 25, 2023 9:56 pm
*As an Amazon Associate we earn from qualifying purchases.
'Wag The Dog' Movie Summary
The summary below contains spoilers.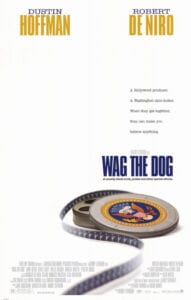 Better known as Conrad Brean, Mr. Fix it arrives at the White House Washington to enhance the public good side of the current President who has recently fallen in hot water concerning sexual misconduct allegations all in the lead up to re-election in eleven days.
Fabricating a war to take the public off the scent is constructed by Conrad enlisting the help of Show-business producer Stanley Motts. Albania becomes the country in the spotlight. A suitcase bomb, terrorism on the border of Canada are ideas that come forth to distract the voters from the arresting truth.
Stanlets creative Hollywood mates are called in to punch out a scenario evokes a theme song, terrorist activity and a whole sound stage scene especially made for news outlets showing a suggested Albanian girl running from the rubble across a burning bridge holding a white kitten.
With political reports in motion, spin doctors continue their work however the CIA move in to question Brean and co conspirator Winefried Ames. But all is good as the CIA chief is talked around but suddenly the opposition party has been secretly advised there is no war. It is not over just yet as the next act continues the deception.
A good plan today is better than a perfect plan tomorrow according to Brean, hence we are introduced to soldier William Shoeman.
Manufactured war hero Willie Shoeman, complete with 'found' library of congress song followed by an outburst of shoes hanging off power lines and trees, also across basketball courts across the country to show support for veteran Shoeman, the old shoe!
However Shoeman ends up being a POW military prisoner in need of medications and beans.
On a plane ride during lightening strikes their aircraft crashes, Shoeman survives as does Stanley, Conrad and Winnefried so the lies continue as the world is watching. This is Nothing! This is Nothing! as Stanley keeps reassuring anyone who'll listen even after Shoeman is shot dead in an act of obtrusion towards a helpless girl.
The American public are now celebrating the return of a fallen (artificial) hero with a patriotic salute. Suddenly an 89% positive poll for the presidents reelection swings positively to be a sure fire victor.
Stanley second guesses his role wanting credit for his work, this is impossible as Conrad had warned him earlier. No money can change Stanley's attitude so Brean puts his foot down. It's the best work he has ever done in his career which makes Stanley sad, emotional and eventually dead by order of the state.
Don't go changing horses midstream, four more years and who knew Jim Belushi is Albanian….
Additional Film Information
Rate the Film!
New Line Cinema released Wag The Dog on January 9, 1988. Barry Levinson directed the film starring Dustin Hoffman, Robert De Niro, and Anne Heche.