Film and Plot Synopsis
Waterworld takes place at a time after the polar ice caps have melted. Water has engulfed the planet, and the last humans navigate it in makeshift boats to survive. While we find that several societies have developed, a man named the Mariner lives a solitary existence out on the high seas. However, that existence forever changes when he finds a stranded woman and a young girl. The Deacon and his evil minions want the two, and they will kill this man to get them.
Buy the Film
Waterworld [Blu-ray]
9 new from $14.99
8 used from $10.24
Free shipping
as of May 30, 2023 8:51 pm
*As an Amazon Associate we earn from qualifying purchases.
'Waterworld' Movie Summary
The summary below contains spoilers.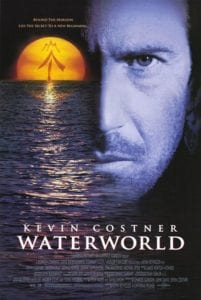 Waterworld
takes place during a time when the polar ice caps have melted, covering
(almost)
all the Earth with water, there is a mutant who has adapted more than any other to survive. This merman produces, writes, stars in, and
(sometimes)
directs major motion pictures. You may know him best as, Oscar Award winner, Kevin Costner.
In today's film, Mr. Costner channels his inner George Miller and gives us a reimaging of 1981's The Road Warrior. Instead of a dry, sand covered Mad Max, we follow Costner's wet, rust covered Mariner; the master of the waves with a customized sailboat. While docking at a floating, rust covered, trading post, "Mariner" encounters a young girl, portrayed by Napoleon Dynamite's Tina Majorino. Majorino's Enola has a misplaced tramp stamp, which some believe is a map a mysterious place call "Dry Land."
A large group of bad guys, known as "Smokers," led by Dennis Hopper's "The Deacon," uses their gas-powered jet skis, speed boats, and airplanes to capture the young waif for their own dry land gains. After a few high seas(?) adventures with Basic Instinct's Jeanne Triplehorn, we finally get to see "Mariner" and "The Deacon" square off on the latter's oil barge in a cliché battle for the young girl and her highly coveted back tattoo.
Who won? Who lost? I can't say! However, I will tell you that a high seas drifter must always remain a high seas drifter because a drier world is too noisy for the gills behind his ears and it just doesn't move right underneath his webbed feet.
Additional Film Information
Rate the Film!
Universal Pictures released Waterworld on July 28, 1995. Kevin Reynolds directed the film starring Kevin Costner, Jeanne Tripplehorn, and Dennis Hopper.