Film and Plot Synopsis
Wet Hot American Summer is set at Camp Firewood – your summer getaway for love, drama, and action! Will camp counselor Coop Coperberg win the hear t of the girl he desires? Will Camp Director Beth discover the shameful secret of her new boyfriend, Professor Henry Newman. And will Professor Newman save the camp from an out of control satellite, plunging towards the Earth? It's fun in the sun in 1981 in this absurdist satire of summer camp movies, courtesy of David Wain and Michael Showalter.
Buy the Film
Wet Hot American Summer [Blu-ray]
7 new from $6.00
6 used from $5.99
Free shipping
as of May 26, 2023 11:14 am
*As an Amazon Associate we earn from qualifying purchases.
'Wet Hot American Summer' Movie Summary
The summary below contains spoilers.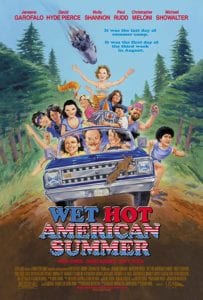 Wet Host American Summer
takes place on a hot day in 1981 at Camp Firewood. It's a summer camp located outside of Waterville, Maine. The counselors there are getting ready for their last day of camp. As your typical horn dog counselors from 1980s sex romps, the teens are looking for that one last score with a hot guy or gal before it is all over.
Beth, the jaded camp director, struggles to keep her counselors under control, and her little campers happy and alive. She spends her free time falling in love with a hunky astrophysics associate professor from Colby College named Henry. Henry spends his time coming up with a rescue plan to save the little camp from a piece of NASA's Skylab, which could fall from the sky, and hit it at any moment.
We have Coop, a counselor with a crush on counselor Katie. Katie has the hots for Andy, her obnoxiously unfaithful boyfriend who bangs other girls at the camp. Gene is the camp's shell-shocked Vietnam war veteran / chef. He, along with some help from a talking can of mixed vegetables he keeps with him at all times, gives Coop words of wisdom to win Katie's heart over…or at least her poonany.
Meanwhile, Gary, Gene's terribly chosen apprentice, and his buddy J.J. go on a hunt to find out why another counselor named McKinley has not been with a woman all summer long! They find the reason is that McKinley is in love with Ben, and Ben is in love with McKinley. The two men marry each other in a quaint lakeside ceremony.
Elsewhere, we have Victor who's attempting to lose his virginity with the camp's local floosey, Abby, and still not having the best of luck. There's a pot smoking scene that leads to hardcore drug use with in minutes, for a fun, 80s style library montage.
In the end, Susie and Ben do their best to produce and choreograph the greatest talent show Camp Firewood has ever seen before, because isn't that what camp is about anyhow?
Additional Film Information
Rate the Film!
USA Films released Wet Hot American Summer to theaters on April 11, 2002. David Wain directs the film which stars Janeane Garofalo, David Hyde Pierce, Michael Showalter.