Film and Plot Synopsis
Jack Powell is a young man with passion for cars in 1917. Mary Preston is his next door neighbor, and she is deeply in love with him, but he doesn't notice. Jack is deeply in love with Sylvia Lewis, but she doesn't notice. Sylvia is deeply in love with David Armstrong. This dynamic initially makes Jack and David rivals, but they soon become good friends when they join the Air Force to fight in France at the onset of World War I. However, as with all wars, tragedy happens, and it's disastrous for all parties involved.
Buy the Film
Wings [Blu-ray]
4 new from $8.59
3 used from $5.58
Free shipping
as of November 16, 2023 6:58 am
*As an Amazon Associate we earn from qualifying purchases.
'Wings' Movie Summary
The summary below contains spoilers.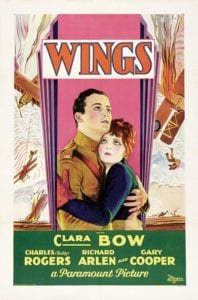 In 1927's
Wings
, Jack Powell and David Armstrong compete for the same girl, Sylvia Lewis, in the small town they live in. Jack is oblivious to the fact that the girl next door, Mary Preston, is madly in love with him.
When the United States enters World War I, both men enlist to become combat pilots. One the day the men leave for training, Sylvia gives Jack her picture because she feels sorry for him. In reality, she is in love with David.
As cadets, Jack and David are initially rivals, but they soon become good friends. After completing boot camp, the men leave for France to battle the Germans. In time, both men become ace pilots with Jack being known to the French as 'The Shooting Star'.
In the climatic Battle of Saint-Mihiel, David is shot down and presumed dead, but he actually survives. As Jack goes on a killing spree to avenge his fallen friend, David steals a German plane in an attempt to return to the allied side. Jack sees David's plane, and not knowing it's his friend up there, Jack shoots David from the sky.
David crashes into a house, and Jack lands to take a clipping of the plane as a war trophy. When the landowner urges Jack to see the dying pilot, Jack realizes that he has killed his friend. David forgives Jack before he dies.
The war ends, and Jack returns a hero. He visits David's grieving parents, and returns his war decoration, and childhood Teddybear. He asks David's parents for forgiveness for killing David. Mrs. Armstrong says the war is what is responsible for David's death; not Jack.
Finally, Jack reunites with Mary, and he tells her he loves her. The two share their first kiss after seeing a shooting star.
Additional Film Information
Rate the Film!
Paramount Pictures released Wings on May 19, 1927. William A. Wellman directed film starring Clara Bow, Charles 'Buddy' Rogers, and Richard Arlen.