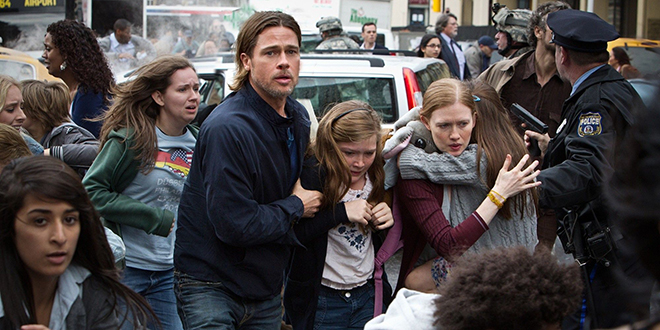 Trailers
World War Z – Theatrical Trailer #2
Paramount Pictures, via iTunes Movie Trailers, has released the second theatrical trailer for their upcoming summer zombie film World War Z. The film is directed by Marc Forster and stars Brad Pitt, Mireille Enos, Daniella Kertesz, James Badge Dale, Matthew Fox, and David Morse. World War Z is scheduled to hit theaters this summer on June 21st.
Based on Max Brooks' best-selling novel "World War Z: An Oral History of the Zombie War," the story revolves around United Nations employee Gerry Lane (Pitt), who traverses the world in a race against time to stop the Zombie pandemic that is toppling armies and governments and threatening to decimate humanity itself. The book "World War Z" was inspired by "The Good War", an oral history of World War II by Studs Terkel; and by the zombie films of director George A. Romero. Brooks used "World War Z" to comment on social issues like government ineptitude and American isolationism, while also examining themes of survivalism and uncertainty.
Here is the second theatrical trailer for World War Z, courtesy of Movieclips COMINGSOON.
Source: iTunes Movie Trailers