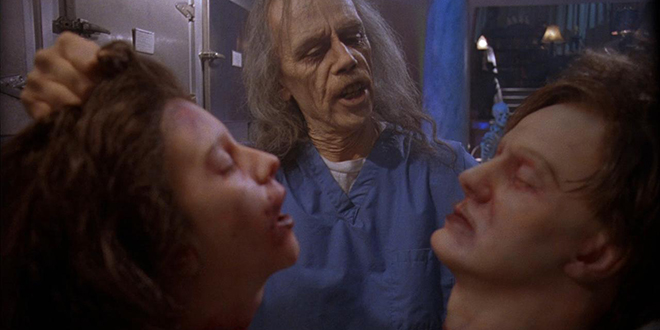 Scream Factory has announced that it is planning to bring to Blu-ray John Carpenter and Tobe Hooper's horror comedy Body Bags. The film stars Carpenter, Hooper, Tom Arnold, Robert Carradine, Wes Craven, Sam Raimi, and David Naughton. Body Bags is scheduled to released sometime later this year.
The film is made up of three short stories. Carradine and Naughton pump-up for high-octane horror when a satanic serial killer stalks "The Gas Station." Stacy Keach, Deborah Harry, and rock superstar Sheena Easton wig-out in the hair-raising tale of tonsorial terror, "Hair." And special guest director Tobe Hooper takes the reins when Mark Hamill and Twiggy set their sights on the supernatural and stare Evil right in "The Eye." So zip yourself up tight and chill out with host John Carpenter in the shock-around-the-clock scare-fest that will keep you coming back for morgue!
Scream Factory has not revealed any of the technical specifications or special features for the Blu-ray as yet.
Source: Blu-ray.com