Film and Plot Synopsis
Pride & Prejudice is a tale of love and values which unfolds in class-conscious England of the late eighteenth century. The five Bennet sisters—including strong-willed Elizabeth and young Lydia—have been raised by their mother with one purpose in life: finding a husband. When a wealthy bachelor takes up residence in a nearby mansion, the family is abuzz. Among the man's sophisticated circle of friends, surely there will be no shortage of suitors for the girls. However, when Elizabeth meets the handsome but snobbish Mr. Darcy, the battle of the sexes begins.
Buy the Film
Pride & Prejudice [Blu-ray]
16 new from $8.99
18 used from $2.87
Free shipping
as of June 2, 2023 1:27 am
*As an Amazon Associate we earn from qualifying purchases.
'Pride & Prejudice' Movie Summary
The summary below contains spoilers.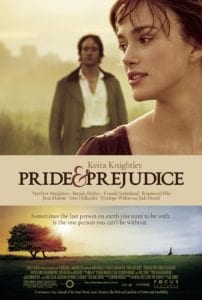 Elizabeth Bennett is the second-born of five daughters. Her family lives a comfortable life on their estate known as Longbourne. However, English laws of the early nineteenth century only allow men to inherit an estate; not women. The Bennett girls will be homeless and penniless upon the death of their Father. Despite this threat, Elizabeth and some of her sisters still dream of a marriage for love.
This 2005 retelling of the Jane Austen masterpiece is true to the original plot. Elizabeth is a witty, stubborn girl. She is the favorite of her clever yet weary Father. Jane, the eldest daughter, is the family beauty. She is as kind as she is beautiful. The younger sisters lack the maturity and social awareness of the older two. Lydia and Kitty are boy crazy and beyond silly, not unlike their Mother. Mary is serious but socially inept.
When an eligible bachelor rents the nearby estate, Netherfield, the pressure to find a husband of means is intensified for the Bennett sisters. At a ball, they meet Charles Bingley, his haughty sister, Caroline, and their dear family friend, Mr Darcy. Elizabeth's first impression of Darcy is not good. She finds him to be conceited and insulting.
Mr Darcy sulks the entire evening and refuses to dance with anyone. Though he tries to hide it, Darcy is obviously curious about Elizabeth. She is different from the other ladies. Mr Bingley takes an instant liking to Jane Bennett. The two are inseparable the entire evening. The rest of the Bennett family manages to embarrass themselves in one way or another.
Then the next day, Caroline Bingley invites Jane to dine with her. Even though a storm is brewing, her Mother makes her go on horseback. Jane obides her mother, but the rain pours on her. As a triumph for her Mother, Jane catches a severe cold and must stay at Netherfield for a few days. Elizabeth also stays with the Bingleys to look after her sister. In the evening, Elizabeth and Mr Darcy continue to squabble over minor things such as what defines a woman as accomplished. Caroline maintains a rude aloofness toward Elizabeth unless trying to draw the attention of Mr Darcy.
After Lizzie and a recovered Jane return home, Mr Collins arrives at Longbourne. He is an arrogant, bumbling man. He clumsily makes clear his intention to find a bride from one of the Bennett daughters. He steers away from Jane, and sets his sights on Elizabeth.
While in town purchasing ribbon, Elizabeth and her sisters make the acquaintance of a soldier named Mr Wickham. Lizzie's first impression of him is that he is an easy going, worthy man. The younger Bennett girls flirt with him mercilessly. While walking, the group encounters Bingley and Darcy. It is clear that Darcy dislikes Wickham. When Darcy storms off without any civility, Wickham spins a sinister tale. He reveals that he and Darcy were boyhood friends and as close as brothers until Darcy denied him the living the late senior Darcy desired him to have. Elizabeth's dislike for Mr Darcy increases.
Mr Collins accompanies the family to yet another ball where he is also an embarrassment. Lizzie looked forward to seeing Mr Wickham, but he doesn't show up. After dancing with Mr Collins, Mr Darcy requests a dance which shocks her. As they dance and banter, Elizabeth makes known to Darcy that she disapproves of his treatment of Wickham. As the Bennett family leaves, Bingley's sister hammers in that she disapproves of Charles' attachment to Jane.
Later, Mr Collins obtusely proposes to Elizabeth, who rejects him. This infuriates Mrs Bennett. She tells her that she will never speak to her again. Her Father claims that he wouldn't speak to her if she did marry him.
Jane receives a curt letter from Caroline Bingley that they are closing Netherfield. This devastates Jane, and  confuses everyone. They were sure Mr Bingley was falling in love with Jane.
Elizabeth's dear friend, Charlotte Lucas, visits Elizabeth. Charlotte shares that she has accepted a proposal from Mr Collins. Elizabeth can't hide her disappointment. Charlotte explains that at twenty-seven, she doesn't want to burden her family anymore. She feels she will be happier as Mrs Collins.
Jane travels to London to visit her aunt and Uncle in the hopes of seeing Mr Bingley. Unfortunately, this does not happen.
Elizabeth visits the new Mrs Charlotte Collins at Rosings. Charlotte confesses that she avoids her husband as much as possible and is quite happy running her home. Lady Catherine DeBurgh invites the Collins and Lizzie to her grand mansion. Mr Darcy's presence surprises Elizabeth. He is the nephew of the Lady and the intended husband for the sickly Anne DeBurgh.
Lady DeBurgh is rude and meddling. For the first time, Elizabeth and Darcy actually have a civil conversation. She playfully tells his cousin, Colonel Fitzwilliam how rudely Darcy behaved when they met. Darcy explains that he is not good at conversation with strangers. Elizabeth suggests that he practice, as she should practice playing music.
The next day, Elizabeth is alone in the Collins home. Mr Darcy appears and seems rather unsettled. He makes some small talk and abruptly leaves. Later at church amid a boring sermon by Mr Collins, Colonel Fitzwilliam lets slip that Darcy is a loyal friend. He praises Darcy for saving a close friend from a bad marital match. Elizabeth stews when she realizes Bingley abruptly left because of Darcy; jilting Jane.
Elizabeth walks in a rainstorm seeking solace. She runs into Mr Darcy who shockingly proposes to her. His offer surprises and insults Elizabeth. It insults her because he also told her how it went against his better judgment to care for her, but he wanted her as his wife anyway. It injures her pride, and she angrily refuses him. He asks for an explanation. Lizzie tells him that his manor of proposal and the fact that he caused the unhappiness of a beloved sister and his ill treatment of Mr Wickham meant he was the last man she could ever marry.
Mr Darcy presents Elizabeth with a letter of defense. In his writing he explains that Wickham was a family friend but not a trustworthy one. Darcy reveals that Wickham gambled away his money. Then he deviously tried to elope with Darcy's then fifteen-year-old sister to get his hands on her inheritance. Elizabeth realizes that her first impressions about both men were very wrong.
Darcy then explains that he did not believe Jane had strong feelings for Bingley and he was protecting his friend from embarrassment. He outlined that aside from Elizabeth and Jane, the rest of the Bennett family did not always behave appropriately in public. At this time in English history, manners and public behavior were a big deal. The letter humbles Elizabeth.
After Elizabeth's return home, her Aunt and Uncle invite her to travel with them. They are near Pemberly, the lavish home of Mr Darcy and decide to visit. They assure Elizabeth that Darcy will not be home. Elizabeth is in awe of the beautiful mansion and grounds. She gets behind the tour, and shockingly stumbles upon Darcy and his sister at a pianoforte. Mr Darcy follows her as she flees outside. She apologizes for the intrusion. He is kind and gentle, so different from her first impression of him. He invites Elizabeth and her Aunt and Uncle to dine with them.
Elizabeth and Ms Darcy are fast friends. She has a wonderful visit at Pemberly and gets along well with Darcy. Upon their return to the hotel, there is an alarming letter for Elizabeth. Lydia Bennett has run off with Mr Wickham. Lizzie now knows his character and doubts his intentions can be good, especially since Lydia has no inheritance.
When Mr Darcy learns of the calamity, he excuses himself. If Wickham does not marry Lydia, society will consider her a ruined woman. It would strain the family, and the rest of the sisters could forget their marriage prospects and any hope of a comfortable future.
In the end, they miraculously resolve the situation, and Wickham marries Lydia. When the dubious newlyweds visit Longbourne, Elizabeth can barely look at her new brother in law. Lydia lets slip that Mr Darcy was at their wedding. Elizabeth realizes that his intervention is what saved the day. Mr Bingley returns to Netherfield and proposes to an eager Jane.
When a contemplative Lizzie stumbles upon Darcy on an early morning walk, she thanks him for all he has done. He confesses that he did it only for her and renews his marriage offer. "You have bewitched me body and soul and I love, love, love you." Lizzie graciously accepts this time. The film ends with the happy couple sharing a quiet moment alone. (Sigh)
Additional Film Information
Rate the Film!
Focus Features released Pride & Prejudice on November 23, 2005. Joe Wright directed the film starring Keira Knightley, Matthew Macfadyen, and Brenda Blethyn.