Film and Plot Synopsis
La La Land is the story of an aspiring actress named Mia and a dedicated jazz musician named Sebastian who have a few chance meetings in the city of Los Angeles. While the pair pursues their own dreams in a town known for dashing them, the two begin a romance. However as each one finds success in their own way, they are faced with decisions that pits their love for one another against their dreams of success. It threatens to tear the two apart. In the end, Mia and Sebastian must decide what is more important to them; a once-in-a-lifetime chance at love or a once-in-a-lifetime moment in the spotlight.
Buy the Film
La La Land 4K Ultra HD [Blu-ray + Digital HD]
4 new from $25.99
7 used from $15.94
Free shipping
as of September 20, 2023 11:54 am
*As an Amazon Associate we earn from qualifying purchases.
'La La Land' Movie Summary
The summary below contains spoilers.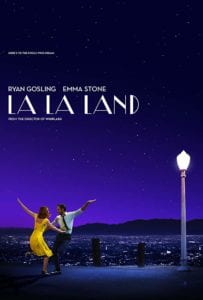 La La Land
begins like most days do in Los Angeles; stuck in traffic. Mia is an aspiring actress on her way to work as a barista. Sebastian is a jazz pianist who aspires to own his own night club. The two share a moment of road rage when Sebastian waves to Mia with only one finger.
Later that the day, Mia joins her roommates for a night out on the town with them. Her car is towed, so Mia walks home. Along the way, she stumbles upon a restaurant where Sebastian plays is piano. The manager fires him for playing jazz instead of Christmas songs. Mia tries to tell him how amazing his playing is, but Sebastian storms past her.
Sometime later, Mia again runs into Sebastian at a party where he's playing in an 80s cover band. This time, Sebastian actually talks to Mia, albeit reluctantly at first, and eventually invites her to go see Rebel Without a Cause.
Mia shows up late to the date because of prior commitments with her boyfriend, and the two end up dancing the night away at the Griffith Observatory. They fall in love, and move in together.
The relationship becomes strained when Sebastian joins his friend's band. He tours cross country for months on end, and talks little to Mia during this time. This is not what he wanted for his life, and Mia confronts him about it. She says he's sacrificing his life goals for a band he doesn't like.
Meanwhile, Mia works on her one-woman play, and on opening night, hardly anyone shows up. The performance is a disaster, and to make things worse, Sebastian doesn't show up. He instead attends a photo shoot for his band.
Crushed, Mia dumps Sebastian, and moves back to Boulder City, Nevada, but all is not lost. A casting director, who was in the audience of Mia's play, calls Sebastian. She is looking for Mia, and wants her to audition for a part. Sebastian drives to Boulder City to get her, and bring her back in time to make the audition.
Before Mia hears back from the casting director, Sebastian tells her she must devote everything to becoming a success. They decide they will always love each other no matter what happens.
Mia gets the part, and moves to Paris. The two lovebirds drift apart. Mia becomes famous, marries another man, and has a little girl. Sebastian gets the night club he always wanted, but apparently doesn't have a new girlfriend to call his own.
One night, Mia and her husband stumble across Sebastian's club where he spots her. He plays one final song for her while he dreams the movie's final dance sequence. The song ends with Mia and her husband leaving the club. Mia and Sebastian share one final smile as the film closes.
Additional Film Information
Rate the Film!
Summit Entertainment released La La Land on December 25, 2016. Damien Chazelle directed the film starring Ryan Gosling, Emma Stone, and Rosemarie DeWitt.