Film and Plot Synopsis
In Pixar's 27th feature film, Bernie and Cinder are a couple of fire elements who travel to Element City to open their own business and to raise their soon-to-be-born child Ember. Years later, Ember is a hot-headed teenager whose anger continually gets her into trouble. After an outburst of anger, Ember has causes damage to her family's business that could result in catastrophe. However, the unexpected help of a water element, Wade, may allow her to save the family business and place her on the path towards true happiness.
'Elemental' Movie Summary
The summary below contains spoilers.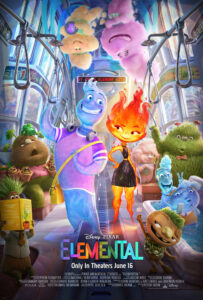 The film begins with fire elements Bernie and Cinder Lumen (Ronnie del Carmen and Shila Ommi) immigrating to Element City to begin their new lives. Upon arrival, they face rampant xenophobia of fire elements and struggle to find a proper home to begin their family. Eventually, they find a rundown shop to begin their business and to raise their newly born daughter, Ember (Leah Lewis), in. The couple finds an honorary place for their Blue Flame, a rare, spiritual fire source that they have brought with them from their native land. The business, a convenience store called the Fireplace, is moderately successful.
Ember grows up working in the store. Bernie intends for Ember to take over the business when he retires, but he needs Ember to learn to control her fiery temper. One day, Bernie leaves Ember to run the store on her own, and Ember becomes overwhelmed by the customers. She rushes down to the basement to allow her anger to rage outside of the sight of the customers. Her fiery outburst breaks a water pipe which floods the basement and provides an entrance for Wade Ripple (Mamoudou Athie), a water element and city inspector. Wade notices the damage that Ember's outburst has caused and notes the faulty plumbing in the building. Wade apologizes to Ember but informs her that he must file a violation report with City Hall which will result in the Fireplace being shut down. Despite Ember's various attempts to stop him, Wade files his report with his boss, an air element named Gale Cumulus (Wendi McLendon-Covey).
Wade feels guilty for filing the report and tries to help Ember in convincing Gale not to shut down the Luman family's business. They visit Gale while she is watching a sporting event at Cyclone Stadium. Wade mentions that before being sucked into Ember's basement he was trying to find the source of a leak in the city's canals. Wade offers for he and Ember to track the leak from the store back to the canal in exchange for the Fireplace remaining open. Gale accepts the offer but gives the duo a tight deadline and tells them that they must seal the leak. Wade and Ember quickly find the leak, which comes from a hole in a dam that allows wave runoff from ships to flood the city's plumbing. The pair seal off the hole with sandbags.
I sucked a City Inspector… into my pipes?Ember (Leah Lewis)
After the repair, Wade and Ember spend some time together in the city and get to know each other. They start to become friends, but there is a hint of romance between the two. A short time later, Wade learns that the sandbags did not hold, and the leak begins again. Wade and Ember return a second time and Ember uses her impressive glassmaking ability to create a more formidable seal for the hole in the dam. Once again, the Fireplace appears to be saved.
Wade and Ember continue their friendship. Cinder begins to suspect that Ember has begun to fall in love and follows her one day when she leaves the store. Ember goes to meet Wade's family at their luxury apartment. Despite the various water hazards that threaten to extinguish Ember, Wade's family is very welcoming to her. Ember even makes a striking impression on Wade's mother Brook (Catherine O'Hara) when she uses her glassmaking ability to repair a broken glass pitcher. Brook encourages Ember to apply for a glassmaking internship, which would require her to not take over her father's business. During the dinner, Wade's family plays the crying game with Ember. Wade successfully makes Ember cry when he admits he has feelings for her. Gale calls Wade and tells him that she has inspected Ember's glass seal and approves it, thus saving the Fireplace. The salvation of the Fireplace, combined with the idea of practicing her glassmaking, causes Ember to realize that she does not want to take over her family's business.
Not long after, Bernie announces his formal intent to retire, believing that Ember is ready and willing to take over the Fireplace. Bernie confides in his daughter that when he left his homeland, he bowed for his father as a sign of respect and honor. However, Bernie's father refused to bow back. The next night, Wade takes Ember to the Garden Central Station to see Vivisteria flowers, which she was not allowed to see when she was a child. The station is now flooded, but Gale provides Ember with an air bubble for safety while Wade propels her through the station. After the adventure, Ember and Wade realize that they can touch each other without each harming the other. The two share a romantic dance, but Ember soon is reminded of her obligations to the Fireplace and her family, who are prejudiced against water elements. Ember breaks up with Wade and asks never to see him again.
Soon after, Bernie and Cinder hold a ceremony to signify the transition of the Fireplace to Ember. During the ceremony, Wade appears and confesses his love for Ember. Wade accidentally reveals that Ember is responsible for the leaky pipes in the basement. Ember rejects Wade, although Cinder sees through her daughter's façade and senses her genuine affection for the water element. Bernie is disappointed in his daughter and decides not to retire. Embarrassed, Ember runs away from her family.
At that moment, the glass seal on the dam breaks, and a wave of water floods into the fire district. Ember rushes back to her neighborhood to warn everyone. She makes it back to the Fireplace after she makes sure that her parents are out of harm's way. Wade also returns to the Fireplace. The two try to seal up the Fireplace from the rising water, specifically attempting to preserve the Blue Flame. Ember and Wade become trapped in a room with the Blue Flame. The combined heat of Ember and the Blue Flame causes Wade to slowly evaporate. In the aftermath, Bernie and Cinder rescue their daughter from the room, but Wade is gone. Ember confesses to her father that she does not want to run the Fireplace and that she loved Wade. The confession solicits a sob from the room. Ember realizes that Wade has seeped into the stone ceiling. Ember plays the crying game to get Wade to drip back into his normal form. Once Wade is restored, Ember and Wade embrace and kiss much to the surprise of Bernie and Cinder.
Several months later, new couple, Wade and Ember, prepare to leave Element City so that the couple can travel the world together and Ember can further her love of glassmaking. Before she boards the ship for her trip, Ember bows to her father who lovingly returns the gesture of respect and honor.
Rate the Film!
Walt Disney Studios Motion Pictures released Elemental on June 16, 2023. Peter Sohn directed the film starring Leah Lewis, Mamoudou Athie, and Ronnie Del Carmen.