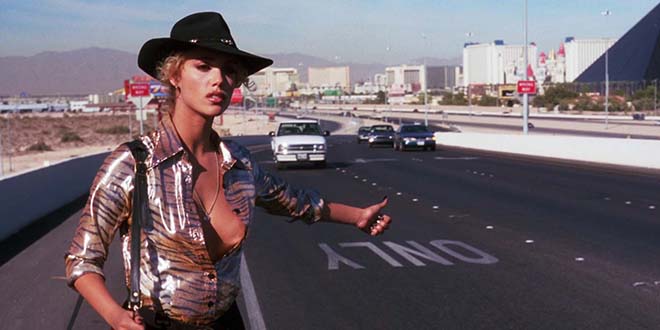 Podcast: Play in new window | Download
Subscribe: Apple Podcasts | Android | Google Play | Stitcher | RSS | More
Directed By: Paul Verhoeven
Starring: Elizabeth Berkley, Kyle MacLachlan, Gina Gershon
Showgirls 30-Second Summary
Showgirls begins with Nomi Malone as a young girl hitchhiking her way out of small town USA to make it as a Las Vegas Showgirl. On the way to town, she gets picked up by an Elvis clone who ends up robbing Nomi. She has a bit of a breakdown, but immediately meets Molly Abrams who befriends Nomi, and takes her in as her roomie. Molly brings Nomi backstage to her work at Goddess; one of The Stardust Casino's topless reviews, and gets humiliated by the show's star, Cristal Connors.
Nomi is so upset over this that she can't work at her own strip club that night, and instead goes to a club to dance her anger off. She gets in a fight with a bouncer named James, and gets arrested. Creeper James decides to bail her out for some odd reason.
The next night, Cristal brings her sleezeball boyfriend, Zack to Nomi's stripclub, Cheetah's, to prove to Nomi that she's just a prostitute in disguise. She pays Nomi $500 to dance for Zack, thus proving her point, but Cristal has a heart of gold, and she gets Nomi an audition as a chorus girl in her Goddess show.
The show's director, Tony Moss, humiliates Nomi during the audition, but she gets the job anyway. Cristal then decides to humiliate Nomi further by getting her to go to a boat show which is a hotbed for prostitution. This is too much for Nomi, and she plots her revenge on Cristal.
Since Nomi is basically a whore, she decides to seduce Cristal's boyfriend Zack. Zack falls for it, and gets Nomi a job as Cristal's understudy in the Goddess show. Nomi then pushes Cristal down a flight of stairs; breaking her hip, and becoming the lead star she always thought she should be.
Molly goes to Nomi's opening show, where she meets her idol, Andrew Carver. He invites Molly back to his room where he beats her senseless, and watches on as one of his bodyguards rapes her. Zack bribes Molly to keep her mouth shut, which pisses Nomi off, but he gets Nomi to keep her mouth shut by revealing that he knows about her past back home as a prostitute.
Since Nomi is basically a whore, she decides to get her revenge by seducing Carver, and beating him bloody in his hotel room. She then runs off to the hospital to tell Molly that her rape has been avenged. She then heads to Cristal's hospital room to apologize to her for pushing her down the stairs, but Cristal's not mad. She did the same thing years ago to get herself cast in a lead role too. Cristal forgives Nomi, and the two share a tender kiss.
Nomi decides to hightail it out of Vegas to Los Angeles, and hitches a ride with the same Elvis impersonator from the beginning of the film that stole all her stuff.
Small world, isn't it?
Theme Song "Walk into the Wind" by Andrew Carver
Buy Song On Amazon.com  Buy Song On iTunes
Disclaimer: This podcast is not endorsed by MGM Home Entertainment and is intended for entertainment and information purposes only. Showgirls, all names and sounds of Showgirls characters, and any other Showgirls related items are registered trademarks and/or copyrights of MGM Home Entertainment or their respective trademark and/or copyright holders. All original content of this podcast is the intellectual property of The Number Two Review, MHM Podcast Network, and Fuzzy Bunny Slippers Entertainment LLC unless otherwise noted.
This post contains affiliate links that will take you to Amazon.com and/or the iTunes Store. This means if you click on the link and purchase the item, we will receive an affiliate commission. Our content is not influenced by advertisers or affiliate partnerships. For more information, please read our Terms of Use about the inclusion of affiliate links on this site.
---
---