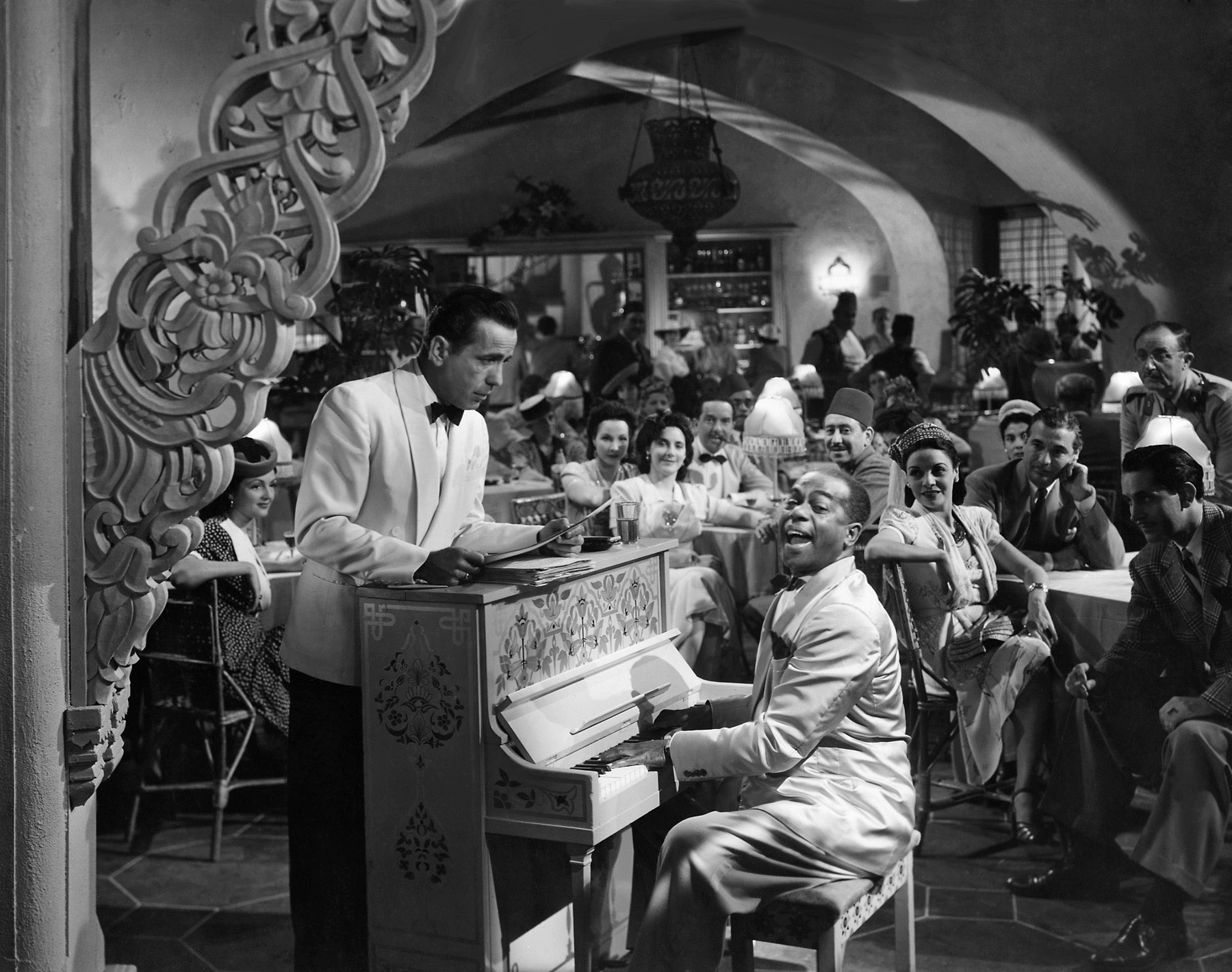 Podcast: Play in new window | Download
Subscribe: Apple Podcasts | Android | Google Play | Stitcher | RSS | More
Warner Bros. Pictures released Casablanca to theaters on January 23, 1943; grossing $10.5M worldwide. Michael Curtiz directed the noir classic which starred Humphrey Bogart, Ingrid Bergman, and Paul Henreid .
Casablanca Movie Summary
Rick Blaine is an American expatriate who runs an upscale nightclub/gambling den in Casablanca, Morocco in 1941. "Rick's Café Américain" attracts a mixed clientele, but mostly it attracts refugees desperate to reach the still neutral United States; and those who are willing to prey on those who have little hope. Petty crook Ugarte, played by Peter Lorre, is one such predator. Ugarte shows up to the Cafe and asks Rick to hide two letters of transit. The letters were obtained from two murdered German couriers.
The papers, the magufin in the film, allow the bearer to travel around German-controlled Europe and to neutral Portugal. The letters of transit are priceless, and men, obviously, will kill for them. Rick agrees to temporarily hide the letters, but before Ugarte can sell them. That night, the local police, under the command of Vichy Captain Louis Renault, arrest him. We ultimately find out that Ugarte dies in custody without revealing that he had entrusted the letters to Rick.
Victor Laszlo, a renowned fugitive Czech Resistance leader, and his wife Ilsa Lund soon arrive at Rick's; looking for Ugarte. Ilsa is the source of Rick's bitterness and disillusionment; having broken his heart in Paris a few years before. Victor and Ilsa are fleeing the Germans, and hope to leave the territory via the letters. German Major Strasser follows Victor into Casablanca to see that Laszlo does not succeed.
Disclaimer
This podcast is not endorsed by Warner Bros. Pictures and is intended for entertainment and information purposes only. Casablanca, all names and sounds of Casablanca characters, and any other Casablanca related items are registered trademarks and/or copyrights of Warner Bros. Pictures or their respective trademark and/or copyright holders. All original content of this podcast is the intellectual property of Movie House Memories and Fuzzy Bunny Slippers Entertainment LLC unless otherwise noted.
This post contains affiliate links that will take you to Amazon.com and/or the iTunes Store. This means if you click on the link and purchase the item, we will receive an affiliate commission. Advertisers and affiliate partnerships do not influence our content. For more information, please read our Terms of Use about the inclusion of affiliate links on this site.
Rate the film
How many stars do you give the film? Let us know.
---
---