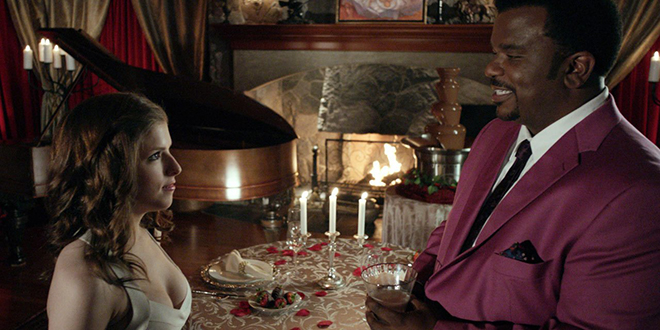 Lionsgate Films has announced the addition of the apocalyptic comedy Rapture-palooza to their upcoming slate of Blu-ray releases. The film is directed by Paul Middleditch and based on a script by Chris Matheson. The comedy stars Anna Kendrick, Craig Robinson, John Francis Daley, Thomas Lennon, Rob Corddry, Ken Jeong, Ana Gasteyer, Paul Scheer, and Rob Huebel. Rapture-palooza will be available for purchase online and in stores beginning on August 20th.
When the apocalypse actually happens and a billion people are raptured to heaven, Lindsey (Kendrick) and her boyfriend Ben (Daley) are left behind in suburban Seattle. Amidst talking locusts, blood rain showers and pot-smoking wraiths, the young couple attempts to live a normal, everyday life. When the Anti-Christ (Robinson) settles down in their neighborhood things quickly take a turn for the worse, especially after Lindsey finds herself as the object of Satan's affection. With the help of family, friends and a lawn-mowing zombie, the duo set off to stop the Devil from taking an unwilling bride and they may just save the world in the process.
The Blu-ray will feature a DTS-HD Master Audio 5.1 surround track, an UltraViolet digital copy, and several special features, including: an audio commentary with Craig Robinson, Rob Corddry, and Rob Huebel; It's Good to Be the Beast featurette; deleted scenes; and a gag reel.
Theatrical Trailer for Rapture-Palooza  courtesy of IGN
Source: Blu-ray.com