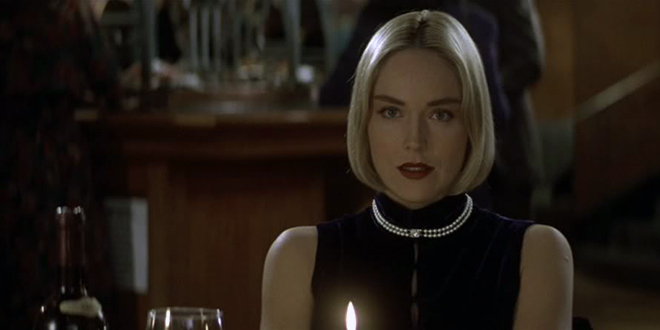 Warner Bros. Home Entertainment has announced the addition of the suspense thriller Sliver to their upcoming slate of Blu-ray releases. The film is being released as part of their distribution deal with Paramount Pictures. The thriller is directed by Phillip Noyce and stars Sharon Stone, William Baldwin, Tom Berenger, Polly Walker, and Martin Landau. Sliver features a screenplay by Joe Eszterhas and is based on the novel by Ira Levin. The film will be available for purchase in an unrated Blu-ray edition beginning on September 10th.
In the film, young publishing executive Carly (Stone) takes an apartment in an exclusive "sliver" building in New York, only to learn that the previous tenant, who bore a striking resemblance to Carly, died in a mysterious fall from the apartment balcony. When other tenants of the building begin to also die mysterious deaths, Carly begins to suspect that a killer may be inhabiting the building, and that it may be either Zeke (Baldwin), the voyeuristic building owner with whom she's romantically involved, or Jack (Berenger), a suspicious mystery writer.
Sliver was released in May of 1993 and grossed over $116 million in worldwide box office.
Warner Bros. Home Entertainment has not released any details concerning the exact tech specs and special features that will be included with the disc.
Theatrical Trailer for the film Sliver  courtesy of Paramount Movies
Source: Blu-ray.com
---
---