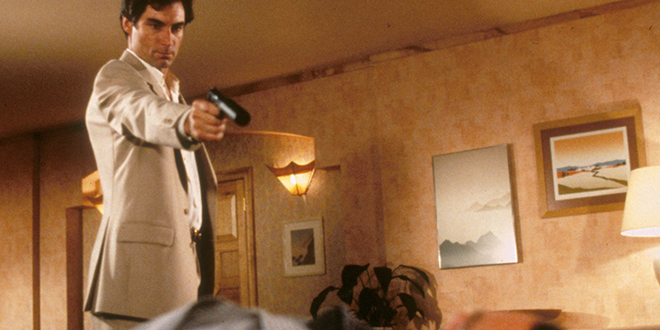 Podcast: Play in new window | Download
Subscribe: Apple Podcasts | Android | Google Play | Stitcher | RSS | More
Directed by: John Glen
Starring: Timothy Dalton, Maryam d'Abo, and Jeroen Krabbé
The Living Daylights Movie Summary
Bond assists a KGB agent in his escape from Czechoslovakia. While doing so, he disobeys an order to kill the Russian sniper trying to kill the KGB agent. The agent, Koskov, informs MI6 that the KGB wants to kill all of the West's spies. Koskov is later abducted from the MI6 compound and taken back to Moscow.
Bond sets off to find and kill the Russian general in charge of the Russian's efforts to eliminate spies, General Pushkin. On his way, he tracks down the Russian sniper from the defection, who, it turns out, is Koskov's girlfriend, Milvoy.
Bond and Milvoy schtoop and then track down Pushkin in Tangier. Pushkin denies any knowledge of the plan to kill spies and reveals that Koskov is wanted by the KGB for embezzlement. Bond and Pushkin join forces and fake Pushkin's assassination to draw Koskov out.
The group flies to Afghanistan, where Koskov betrays Milvoy and locks her and Bond up. Bond escapes and frees a leader of the mujahedeen along the way. It seems Koskov had planned to buy a shipment of opium from the mujahedeen with the Soviet money and use the profits to buy arms.
Bond gets stuck on the plane with the opium when he tries to blow it up while the mujahedeen attack the base on horseback. Instead of the dope, Bond blows up a bridge from the plane, and returns to Tangier to kill the arms dealer Koskov was buying from. Pushkin is able to arrest Koskov and ship him back to Moscow.
Disclaimer: This podcast is not endorsed by MGM/UA Home Entertainment and is intended for entertainment and information purposes only. The Living Daylights, all names and sounds of The Living Daylights characters, and any other The Living Daylights related items are registered trademarks and/or copyrights of MGM/UA Home Entertainment  or their respective trademark and/or copyright holders. All original content of this podcast is the intellectual property of Movie House Memories and Fuzzy Bunny Slippers Entertainment LLC. unless otherwise noted.
This post contains affiliate links that will take you to Amazon.com and/or the iTunes Store. This means if you click on the link and purchase the item, we will receive an affiliate commission. Our content is not influenced by advertisers or affiliate partnerships. For more information, please read our Terms of Use about the inclusion of affiliate links on this site.