Film and Plot Synopsis
Computer game writer Roger and fashion designer Anita meet, fall in love and marry along with their dalmatians Perdita and Pongo. Soon the dogs have a litter of fifteen puppies. Anita's boss, Cruella de Vil wants to purchase the puppies so that she can make them into a fur coat. When Roger and Anita refuse to sell them to her, Cruella has her henchmen kidnap the dogs. Soon the puppies, their parents Pongo and Perdita, and 84 other puppies finds themselves on the run from Cruella and her men. Will the dogs escape the evil Cruella or are they destined to become a fur coat?
Buy the Film
101 Dalmatians (Live Action)
5 new from $68.92
28 used from $5.00

as of September 24, 2023 8:19 pm
*As an Amazon Associate we earn from qualifying purchases.
'101 Dalmatians' Movie Summary
The summary below contains spoilers.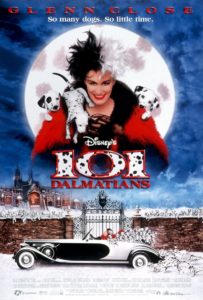 Roger Dearly (
Jeff Daniels
) is a video game designer living in London with his pet dalmatian Pongo. One day, Pongo sees a female dalmatian named Perdy. Pongo convinces Roger to go for a walk and furiously follows Perdy and her owner Anita Campbell-Green (
Joely Richardson
) throughout the streets of London to St. James Park. Chaos ensues, but eventually Anita and Roger fall as deeply in love as Pongo and Perdy. Soon after, they get married and the four of them begin living together.
Anita works as a fashion designer at the House of De Vil. Her boss is the glamorous Cruella de Vil (Glenn Close). Cruella has an obsession for fur, and after seeing a design by Anita that was inspired by her dalmatian, concocts a plan to make a garment out of actual dalmatians. Cruella jokingly states that it would seem as if she was wearing Anita's dog.
Soon after, Anita discovers that Perdy is pregnant and is then informed that she is pregnant herself with a child. Sometime later, Cruella visits their home and expresses contempt upon meeting Roger. Cruella in uninterested in the baby, showing disgust at the prospect of a child. However, she becomes excited upon hearing that Perdy is expecting. Several week later, the puppies are born, and Cruella returns to see the litter of 15 puppies. She offers to buy them all for £7,500. Roger and Anita refuse her offer. Cruella becomes enraged and fires Anita. She vows revenge against Anita and Roger.
Oh, yes! I love the smell of near extinction! Cruella De Vil
One winter evening, Cruella dispatches her henchmen, Jasper (Hugh Laurie) and Horace (Mark Williams) to break into the home and steal the puppies while Roger and Anita are walking in the park with Pongo and Perdy. Jasper and Horace take the puppies to Cruella's ancient country estate, De Vil Mansion. There, they are combined with 84 other dalmatians that the henchmen have stolen. Cruella orders her taxidermist, Mr. Skinner (John Shrapnel) to kill and skin the entire lot so that she can make her coat.
Roger and Anita notify the police, but they are devastated by the loss of the puppies. Pongo takes matters into his own paws and uses the twilight bark to carry a message to the animal world in Great Britain. A dog in the countryside hears the twilight bark and follows Jasper and Horace to the mansion. The dog finds all of Pongo and Perdy's puppies and the other 84 dogs inside and helps them escape before they can be killed by Mr. Skinner. The puppies make their way to a nearby farm where they are joined by Pongo and Perdy who travel all the way from London to save their puppies.
Cruella arrives at the mansion and discovers the puppies are gone. Cruella berates Jasper and Horace before setting out to find the puppies herself. Jasper and Horace also attempt to look for the puppies as well. After several mishaps, Jasper and Horace discover nearby police on the hunt for Cruella and her henchmen. Jasper and Horace turn themselves in, joining Skinner who was beaten earlier while trying to kill one of the original fifteen puppies, Lucky, who had been left behind. Meanwhile, Cruella tracks the puppies to the farm. She tries to retrieve them, but the animals outwit her. The dogs cause Cruella to fall into a vat of molasses and then into a pigpen.
Sometime later, the police find Cruella at the farm and arrest her. She is placed into the police van with Jasper, Horace, and Skinner where she once again berates her henchmen. They end up all getting sprayed by a skunk which Cruella accidentally picked up believing that it was her purse. Meanwhile, the dalmatians are found and sent home via the Suffolk Constabulary. Pongo, Perdy, and the puppies are reunited with Roger and Anita. After they are told that the remaining 84 puppies have no place to go, Roger and Anita decide to adopt them all, bringing their total to 101 dalmatians. Roger designs a successful video game featuring dalmatian puppies who avoid being captured by Cruella the villain. Roger, Anita, and all the dogs move to the countryside with the all the money that Roger makes off the video game. Roger and Anita have a baby daughter, and a year later the puppies have grown up with puppies of their own.
Additional Film Information
Rate the Film!
Buena Vista Pictures Distribution released 101 Dalmatians on November 27, 1996. Stephen Herek directed the film starring Glenn Close, Jeff Daniels, and Joely Richardson.