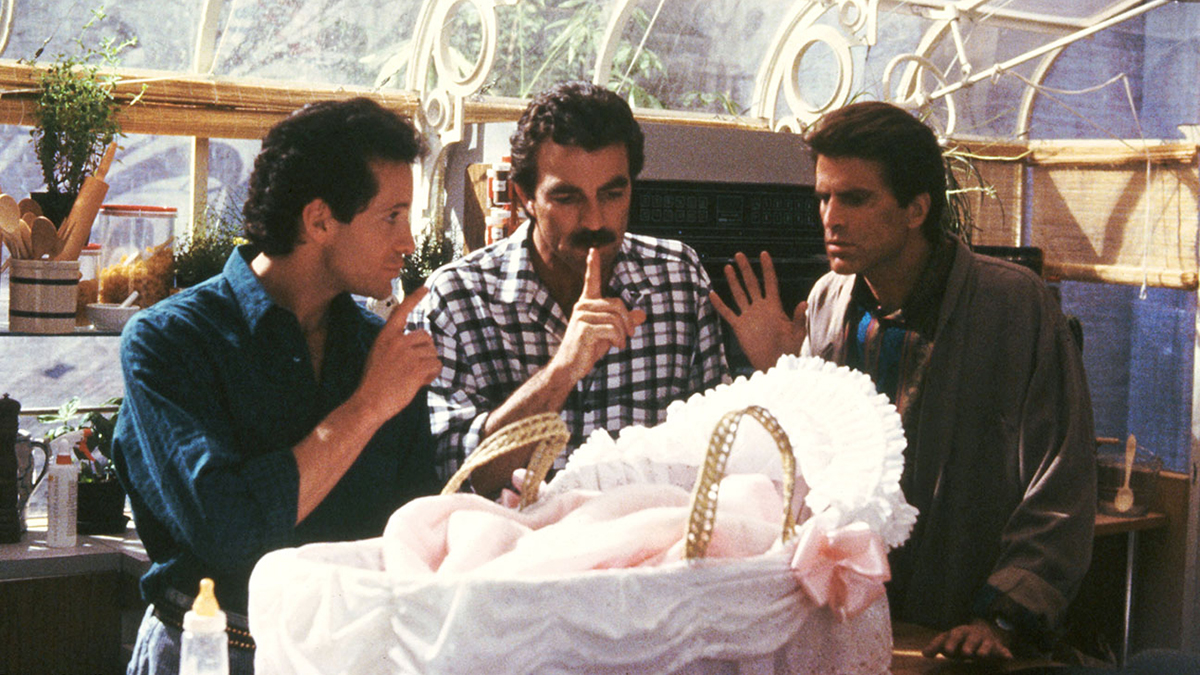 Film and Plot Synopsis
Three men live a charmed life in an upscale Manhattan apartment as roommates and unrepentant bachelors. However, when they find a baby abandoned on their doorstep, it turns their lives upside down. Now, whether they like it or not, the three men will have to look after the little girl until her mother returns. While they might have thought they knew everything about women, they aren't prepared for this girl, and her demands for all their attention and love.
Buy the Film
Three Men And A Baby
25 new from $3.49
29 used from $1.36
Free shipping
as of May 21, 2022 5:08 am
*As an Amazon Associate we earn from qualifying purchases.
'3 Men and a Baby' Movie Summary
The summary below contains many spoilers and feeble attempts at humor.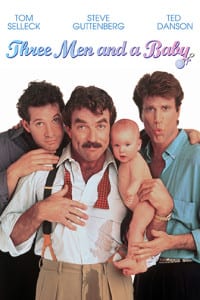 What happens when a Vulcan directs a story about three roommates who suddenly have an infant baby living with them? Spoiler alert…you get one hundred and two minutes of hilarity!
The hunky architect, Peter, the playboy actor, Jack, and the sensitive cartoonist, Michael, are all eligible bachelors living in New York City. They work hard and play harder…well except for Jack who hardly works; taking bit parts in commercials to pay the bills.
One morning, Peter, played by Tom Selleck, discovers baby Mary on his doorstep with a note from her mother. Apparently, Jack, played by Ted Danson, didn't wrap it up properly at the wrap up party, and impregnated a fellow co-star off Broadway. That's problem number one. Problem number two is that the new daddy is now away in Turkey for ten weeks while he films a bit part in a terrible 80s spoof about a bar where everyone knows your name. Problem number three is that Peter has spent too many years living it up in Hawaii to know how to take care of a kid with out the help of Higgins, and Michael, played by Steve Guttenberg, went to the wrong type of academy to be any sort of majordomo at this abode.
Before Jack left, he told Michael that he was expecting a package to be delivered to their apartment as a favor to his director/friend, and it was no big deal because someone would pick it up the following day. Peter and Michael, thinking the baby is the package, decide to fumble their way through taking care of Mary until she is picked up.
The next day, two shadowy men do arrive to collect their package, and a confused Peter gives them Mary with a can of powdered baby formula. The men think the can is the package they are actually there for, and leave with it and Mary. Coincidentally, as soon as they leave, Peter discovers a small package stuck in the couch cushions that was also delivered the previous day. Realizing his mistake, he runs off to get Mary back, and give the men their actual package. He trips on his way out of his high-rise building, and the package opens; spilling out little plastic baggies of heroin. He collects them all up, and goes outside to get the attention of the men before they leave.
As Peter tries to be discrete, a police officer arrives on horseback to ticket our hapless drug dealers for illegal parking, and they drive off before he is able to do so, but not before Peter is able to grab Mary back. Back upstairs, Peter receives a visit from Sgt. Melkowitz, who is hot on the trail of the drug dealers, and has just witnessed Peter's interaction with them. He questions Peter about his knowledge of them, but finally leaves after having a weird affection Mary.
Now, Peter and Michael have to take care of a baby, dodge the sergeant, and get all that heroin back to the aforementioned drug dealers before anything else goes wrong — easy peasy, lemon squeezy!
Did I mention that all of this is Jack's fault, and he's STILL on location in Turkey half way into the movie? Well, he finally comes home after his part gets cut, and Peter and Michael happily give him the news about Mary so they can get back to their own lives. Jack denies he knows anything about drugs, drug dealers, and little babies. He has to think long and hard as to who Mary's mother really is, but once he reads the note left in the basket, he realizes the woman is a fellow actress named Sylvia, and takes full responsibility for his new daughter.
Sometime later…days…weeks…we don't really know, Peter finds a note and a newspaper clipping that is presumed to have been left by the drug dealers. The clipping is a story about Jack's director friend being hospitalized after a mugging, and the accompanying note simply says, "Don't let this happen to you!" Channeling his inner magnum, Peter hatches a plan with his boys to nab the drug dealers once and for all. On the night the plan is set to take place, Jack calls Sgt. Melkowitz, and gets him to arrive with back up to arrest the criminals. Everything goes pretty much according to plan. The crooks are captured, the cops get video evidence that Peter, Jack and Michael are innocent, and Mary gets three daddies all to herself.
We cut to a lengthy 80's montage showing the men raising Mary in harmony. They feed her. They bathe her. They read to her. They give her all the loving a little girl could want. So what if they take her to parks to lure young girls over to them. There's nothing creepy about that. Everything looks to be all smiles, but we still have twenty minutes left in the film. Something has to be up, right? Well, yes. Something is up. Out of the blue, Sylvia shows up with the intention of taking Mary back to England the very next day. She believes she can to raise her by herself and still take acting jobs since her family will be nearby. Although the men are heartbroken, Jack gives Mary back to Sylvia.
The next day comes, and Peter realizes there's something about Mary he can't let go of. He gets the boys to follow him to the airport in a last ditch effort to talk Sylvia out of leaving, but they arrive at the terminal just in time to see her plane taxiing away. (Yes, there was once a time, not too long ago, when three grown men could run screaming through an airport terminal with no ticket or identification in order to stop a plane, and security wouldn't even look twice.)
The men return home to find Sylvia and Mary sitting on their doorstep. Sylvia knows she can't raise Mary by herself AND have an acting career. Peter is no dummy, and his inner magnum invites her and Mary to live with them forever and ever.
Sylvia, of course, says yes. The men, of course, raise Mary. Mary, of course, lives long and prospers, and the audience…well, we get stuck with Three Men and a Little Lady!
Additional Film Information
Rate the Film!
Buena Vista Pictures released 3 Men and a Baby to theaters on November 25, 1987. Leonard Nimoy directed the film starring Tom Selleck, Steve Guttenberg, and Ted Danson.