Film and Plot Synopsis
In this retelling of the classic Charles Dickens tale, Jim Carrey, Gary Oldman, and Robin Wright Penn play multiple characters in orbit around the story's central character Ebenezer Scrooge. Scrooge is a cold-hearted businessman who hates Christmas and looks down upon anyone who celebrates it. However, when the ghosts of his former partner appears to him on Christmas Eve and warns him that he may share his fate of damnation unless he changes his ways, Scrooge begins a magical journey through the past, present, and future that will give the miser a new perspective on life and Christmas.
Buy the Film
Disney's A Christmas Carol (Two-Disc Blu-ray/DVD Combo)
7 new from $9.96
24 used from $3.50
Free shipping
as of December 6, 2023 8:36 am
*As an Amazon Associate we earn from qualifying purchases.
'A Christmas Carol' Movie Summary
The summary below contains spoilers.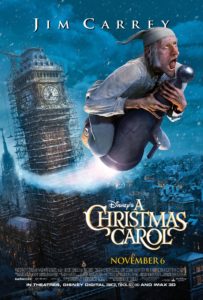 In this retelling of the classic Charlies Dickens tale, Jim Carrey plays multiple characters including the story's central character of Ebenezer Scrooge. In 1843 London on Christmas Eve, Scrooge (
Jim Carrey
) is a cold-hearted businessman with an incredibly bad temper and tendency to be a skinflint. Scrooge hates Christmas and everything that it stands for and looks down on anyone who celebrates the holiday, including his own nephew Fred (
Colin Firth
). As the film opens, Scrooge rejects his nephew's invitation to Christmas dinner and lambasts two gentlemen who are collecting money for charity. Scrooge would rather see the poor placed into the poor houses or graves before he would contribute to help anyone.
Scrooge has a loyal employee by the name of Bob Cratchit (Gary Oldman) who requests to have the day of Christmas off from work. Scrooge reluctantly agrees to the furlough since there would be no other businesses to conduct transactions with on the holiday, but insists that Bob be in early the day after Christmas. At the close of business, Scrooge returns to his home, where he lives alone with minimal amenities. Scrooge encounters the shackled ghost of his late business partner Jacob Marley (Gary Oldman). Marley warns Scrooge that he needs to repent and except Christmas into his heart or he will be doomed to share his miserable fate in the afterlife. The deceased businessman informs Scrooge that he will visited by three ghosts during the night. However, once Marley leaves, Scrooge convinces himself that he imagined the ghost.
Shortly after midnight, Scrooge is visited by the Ghost of Christmas Past (Jim Carrey) which takes the form of an androgynous man with a flickering flame for a head and a candle for a body. The Ghost whisks Scrooge back to his childhood and early adult life. Scrooge sees his early formative years in school where he was often left alone during the holidays. He also sees his beloved sister Fan (Robin Wright Penn), the mother of Fred. The Ghost also shows him his first job with Mr. Fezziwig (Bob Hoskins), where he begins his career in money lending and meets the love of his life, Belle (Robin Wright Penn). Unfortunately, Scrooge is forced to relive his mistake of focusing on his quest for more money which caused Belle to leave him, something that Scrooge has never overcome. At the conclusion of their journey, Scrooge extinguishes the spirit with his candle snuffer cap and is brought back to the present day.
Soon after, Scrooge is visited by the enormous and extremely merry Ghost of Christmas Present (Jim Carrey). This Ghost shows Scrooge the joys and wonders of Christmas Day. The Ghost takes Scrooge to Bob Cratchit's house, where Scrooge is surprised to find that his clerk has such a large family. Scrooge takes pity on Bob's ill son Tiny Tim (Ryan Ochoa). Tim, although small in stature, has a big heart and says a blessing for the absent Scrooge. The Ghost begins to age as the journey continues, but he does tell Scrooge that Tim is likely to die before the next Christmas. The Ghost also warns Scrooge about the evils of "Ignorance" and "Want" who manifest themselves as two wretched children who grow into violent, insane individuals as the Ghost of Christmas Present fades from existence.
Finally, Scrooge is confronted with his final apparition, the Ghost of Christmas Yet to Come, who appears as a large, silent cloaked figure. The final Ghost shows Scrooge a group of businessmen discussing the death of an unnamed colleague. The men show no sadness or remorse towards the death and state that they would only attend the funeral if lunch is provided. The Ghost also shows Scrooge his charwoman Mrs. Dilber (Fionnula Flanagan) trading several items to a fence that Scrooge recognizes as belonging to him.
The Ghost also shows Scrooge the aforementioned businessman's body lying on bed and a family who is relieved at the man's death as they will have more time to pay off their debt. The Ghost also shows the Cratchit family in mourning, as Tim has died. Finally, the Ghost returns Scrooge to the cemetery and shows him his own grave, revealing to Scrooge that he was the man who died that no one mourned. Overcome with guilt and emotion, Scrooge vows to change his ways and embrace every day as if it was Christmas. Nevertheless, the Ghost forces Scrooge to fall into his empty coffin lying in the deep grave that sits above the fires of Hell.
Suddenly, Scrooge awakens in his own bedroom on Christmas Day. Thrilled to be alive and having a chance to repent, Scrooge begins to make up for the years of being miserly. He ventures out onto the streets of London and begins to spread happiness and joy to its citizens. Scrooge sends a turkey dinner to the Cratchit family home. He also attends his nephew's annual Christmas dinner, where surprisingly he is warmly welcomed.
The following day, Cratchit arrives a little late to work after the merriment from the day before. Scrooge surprises Bob by giving his clerk a raise rather than a pick slip. Scrooge promises to help Cratchit with Tiny Tim and eventually becomes like a second father to the boy, who does not die. A changed man, Scrooge now treats everyone with kindness, generosity and compassion and becomes a true bastion of Christmas.
Additional Film Information
Rate the Film!
Walt Disney Studios Motion Pictures released A Christmas Carol on November 6, 2009. Robert Zemeckis directed the film starring Jim Carrey, Gary Oldman, and Colin Firth.