Summaries
A Christmas Tale (2008)
Un conte de Noël (original title)
Film and Plot Synopsis
The Vuillard family gathers for Christmas time just after the family matriarch, Junon, is diagnosed with leukemia. Each member of the family submits to a bone marrow test to see if they are a compatible match for Junon. The black sheep of the family, Henri, is invited to celebrate with the family for the first time in six years. When Henri reveals that he is a positive match for Junon, he kicks off a holiday of family members revealing long held secrets and grudges against each other.
Buy the Film
A Christmas Tale (The Criterion Collection) [Blu-ray]
8 new from $18.99
9 used from $15.48
Free shipping
as of November 21, 2023 6:11 am
*As an Amazon Associate we earn from qualifying purchases.
'A Christmas Tale' Movie Summary
The summary below contains spoilers.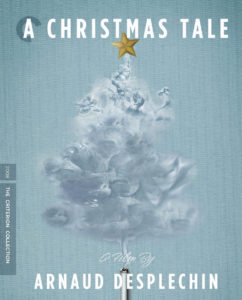 The Vuillard family is a family that seems to be in constant conflict. The iron-willed matriarch of the family is Junon (
Catherine Deneuve
) who has been diagnosed just before Christmas with leukemia that will eventually kill her if she does not get a bone marrow transplant. Junon is married to Abel (
Jean-Paul Roussillon
), an obese factory owner who is the stabilizing influence for the family. Junon and Abel have three living children and parented a fourth, Joseph, who died of leukemia at the age of six after they could not find a compatible donor for their child. Junon got pregnant with her middle child Henri (
Mathieu Amalric
) to supply a potential donor for Joseph.
Their eldest child is Elizabeth Dédalus (Anne Consigny), a successful playwright who is married to the equally successful mathematician Claude (Hippolyte Girardot). Elizabeth and Claude have one child, the 16-year-old Paul (Emile Berling), who is suffering from mental illness and recently attempted suicide. Paul has recently been released from a hospital but continues to struggle with his mental health.
The middle child is Henri, who Elizabeth cannot stand. Henri is a borderline alcoholic who always seems to be involved in a get rich quick scheme. When Henri put his parent's house in jeopardy with a bad business deal six years before, Elizabeth agreed to pay off his debt in exchange for Henri never being in her presence for any family event ever again. Henri agreed to the deal and has not seen his sister nor her family since. Many in the family speculate as to what Henri did to Elizabeth to warrant such hatred, but the film never definitively answers the question for the audience.
Abel and Junon's youngest child is Ivan (Melvil Poupaud). Ivan is married to Sylvia (Chiara Mastroianni) and the young couple have two young sons, Basile (Thomas Obled) and Baptiste (Clément Obled). Although long married to Ivan, Sylvia secretly lusts after Ivan's cousin Simon (Laurent Capelluto). Simon works at Abel's plant and is a part time artist. Simon suffers from alcoholism and often gets into trouble when he drinks. Simon, Ivan, and Henri all were attracted to Sylvia many years before, but they conspired to convince Sylvia that only Ivan loved her. Sylvia grew to love Ivan during their marriage.
Junon's sudden diagnosis causes everyone's feeling about Joseph's death to resurface. Each of the family members undergo medical tests to determine whether they are compatible donors for Junon. Elizabeth, Ivan, and Ivan's boys are determined to be unsuitable donors. Paul's test reveals that he is a compatible donor but he is concerned that the test will reveal that Claude is not his biological father. Henri delays in getting his test done because he has never loved his mother, who also did not love him. Ultimately, Henri submits to the test which reveals that he is a compatible donor as well.
The family gathers for the Christmas holiday. Henri is invited by his father and Paul who sneaks away to see his uncle. Henri arrives with his girlfriend Faunia (Emmanuelle Devos), who no one knows anything about. Faunia gets along well with everyone and acts as a calming influence on Henri at times. Henri drinks heavily and almost immediately gets into conflict with his other family members. Henri reveals that he is a compatible donor, which upsets Elizabeth. She does not like that Henri will get to play the part of the hero to their mother and tries to convince Junon to choose Paul as the donor instead. Despite disliking his mother, Henri tells Junon that he will be the donor.
Shortly before Christmas, Faunia leaves the Vuillard house to spend Christmas with her own family. Family friend Rosaimée (Françoise Bertin) visits for dinner and fireworks. The elderly woman was a friend of Abel's mother. She tells Sylvia that Simon stopped seeing Sylvia because he believed that she would be happier with Ivan. Sylvia feels betrayed and manipulated. She confronts Simon who confesses to the boys' plan years before. Simon also seems haunted by his youthful decision. Simon sneaks out of the house and heads to a café to drink. Everyone goes out looking for him, but it is Sylvia who finds him. Sylvia tells Simon that she knows that he loves her. They spend several hours talking and then return to the Vuillard house where they have sex with each other.
Meanwhile, Paul confronts Henri about his fears in taking the test. Henri informs him that he is not his father, which has been confirmed by the bone marrow test. He tells his nephew that it is not a failing to be afraid. Henri succeeds where many in the family have failed by forming a bond with his fragile nephew. As a result, Paul's mental condition begins to improve.
On Christmas Day, Elizabeht discusses her longstanding depression with her father. Abel reads her the prologue to Friedrich Nietzsche's On the Genealogy of Morality about how well we know, or do not know, ourselves. Abel suggests that Elizabeth fears death, possibly created by the untimely death of her brother, and that has led to her overpowering caution and depression. At the same time, Ivan discovers his wife in bed with Simon, but reacts as if he was not surprised. Elizabeth and Claude leave, and Paul stays behind with Henri. Ivan, Sylvia, and the kids leave, and Simon looks regretful for what happened between them while Sylvia acts as if she has closure.
After Christmas, Henri donates his bone marrow to Junon. When he comes to visit his mother in recovery, Junon announces that her body will reject the transplant although it is not explained why she thinks that. Elizabeth predicts that Junon will live, but Henri is shown flipping a coin in the hospital in front of his mother. The film does not reveal the result of the coin flip.
Additional Film Information
Rate the Film!
Bac Films released A Christmas Tale on May 21, 2008. Arnaud Desplechin directed the film starring Catherine Deneuve, Jean-Paul Roussillon, and Mathieu Amalric.