Film and Plot Synopsis
Boyd Mitchler is a successful hedge fund manager whose belief in Santa Claus was ruined by his alcoholic father, Mitch, when he was a young child. As a result, Boyd overcompensates by trying to maintain the magic of Santa for his own kids if he can. When Boyd and his family are forced to spend Christmas with Mitch in Wisconsin, Boyd accidentally forgets his son's gifts in Chicago. To maintain the magic, Boyd sets out on an eight-hour road trip on Christmas Eve with his estranged father to save Christmas for his son. However, can they make it back before the boy wakes up?
Buy the Film
A Merry Friggin' Christmas [Blu-ray]
9 new from $11.49
3 used from $12.94
Free shipping
as of November 28, 2023 10:26 am
*As an Amazon Associate we earn from qualifying purchases.
'A Merry Friggin Christmas' Movie Summary
The summary below contains spoilers.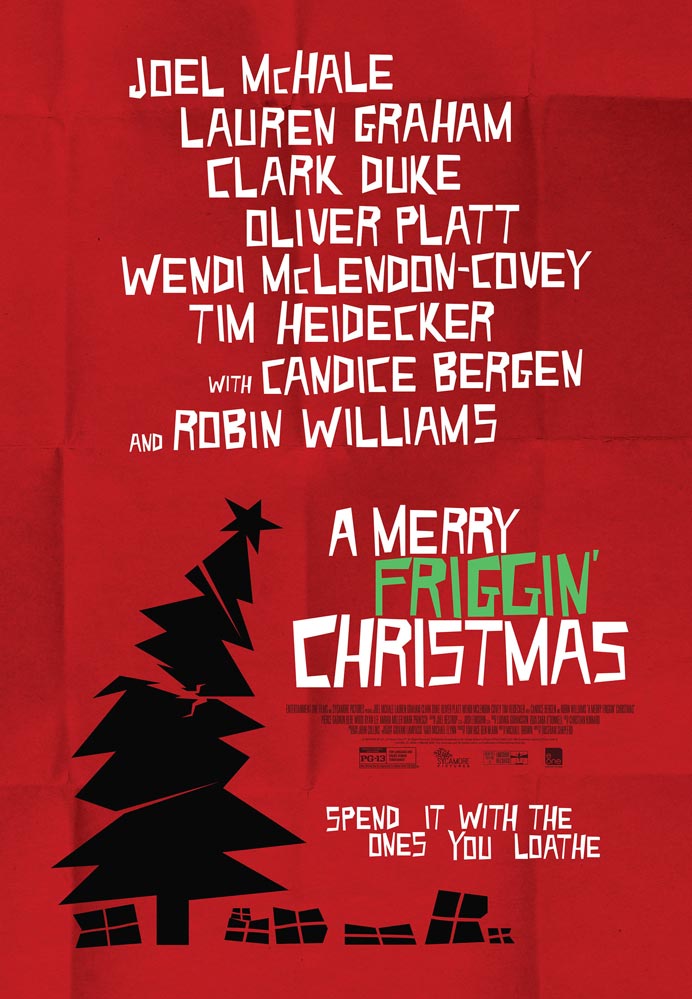 The film begins with a young Boyd Mitchler (J.J. Jones) recalling the memory of discovering that there is no Santa Claus when his alcoholic father Mitch Mitchler (Robin Williams) tells him that he is Santa Claus. Years later, an adult Boyd (Joel McHale) describes how he overcompensates as a father to his own children, Vera (Bebe Wood) and Douglas (Pierce Gagnon), for his father's shortcomings during the holidays. Vera has moved on past the Santa myth, but Douglas still believes in the magic of Christmas and Santa. Boyd and his wife Luann (Lauren Graham) struggle to maintain the belief for as long as they can.
One night, Boyd receives a phone call from his brother Nelson (Clark Duke) who asks Mitch to be the godfather to his newborn child. Boyd is honored and accepts, but he immediately regrets the decision when he learns that the baptism will be on Christmas Eve which will mean that Boyd will have to spend Christmas with his father again. Mitch is also less than thrilled about his son returning since he does not wish to concede to Boyd's beliefs about Christmas. He argues with his wife Donna (Candace Bergen) about how he should not be forced to do anything in his own home. An exasperated Donna looks forward to having everyone together for Christmas for the first time in years.
While Boyd travels to Wisconsin for the baptism, Mitch fights with his daughter Shauna Weinke (Wendi McLendon Covey) about her sex offender husband Dave (Tim Heidecker). Upon arrival, Boyd is set on fire by one of his father's luminaries. Fortunately, his father puts his leg out with an extinguisher. The baptism goes off without a hitch, but the family dinner afterwards is a little tense after Mitch begins to argue with Boyd about how he raises his kids. Boyd wants to leave immediately, but Luann talks him into staying for the sake of the kids. To make matters worse, Boyd must contend with his sister's kids, Rance (Ryan Lee) and Pam (Amara Miller), who do not believe in Boyd's Christmas traditions, including the existence in Santa Claus.
Things become even worse when Boyd realizes that he and Luann left all of Douglas' presents in their home in Chicago. Boyd and Luann fight over who is to blame. Boyd decides that he will drive the eight-hour trip to and from Chicago to retrieve the presents to maintain his son's belief in Santa Claus. Boyd does not get far before his car breaks down and he is forced to call his father for help. Mitch adopts his son's quest for Douglas' presents and the estranged father and son begin the trip to Chicago in Mitch's work truck that is hauling portable toilets. During the trip, Boyd flashes back to his childhood when his father took away the magic of Santa Claus from him.
While Boyd and Mitch are driving, Douglas begins to have a crisis of faith in Santa Claus. Vera reassures her brother of Santa's existence despite her knowledge that he does not. She tells her brother that his belief will be confirmed when he sees his Christmas' presents under the tree the next morning. Meanwhile, Boyd has a weird encounter with an alcoholic, homeless Santa Claus (Oliver Platt) in the men's restroom of a gas station. Before leaving the gas station, the gas station attendant Glen (Gene Jones) tells Boyd how his father is always bragging about him which surprises Boyd.
During the night, Donna goes looking for Nelson, who has post traumatic stress disorder from his time in basic training. When Nelson panics, he falls asleep in random places, including roadways. On the road, Boyd is pulled over by a state trooper (Mark Proksch) for speeding. During the stop, they find Nelson sleeping in one of the portable toilets on the back of Mitch's truck. Nelson joins his brother's quest for Douglas' presents. Once they reach Boyd's house, Boyd realizes that he left his keys in his stranded car. He smashes a window to get in. Once inside, he finds a man named Farhad (Amir Arison) and Farhad's entire family sleeping on the floor of the living room. Farhad was hired by Luann to check on the dog, but Farhad misunderstood the assignment and was sitting in the house. Boyd attempts to get Douglas' gifts back from Farhad and his family. Nelson acts as a translator and retrieves some of the gifts. Mitch finds a Mitchler family photo in the kitchen and notices that Boyd had him photoshopped out of the picture.
Back in Wisconsin, Rance convinces Douglas to eat an entire jar of pickles, which begins to make him sick. Douglas begins to hallucinate from the food poisoning. Meanwhile, Luann and Donna begin to search the house for alternative gifts for Douglas in case Boyd's plan fades. Luann and Donna discuss their mutual difficulties with their husbands. Donna tells Luann how Mitch used to tease Boyd for his interest in art, which Luann realizes caused Boyd to become a hedge fund manager, a job that Boyd hates with a passion.
On the road back to Wisconsin, Boyd and Mitch begin to argue about their relationships with each other. During their argument, Boyd begins to drive fast and drives by the same state trooper. The trooper tries to pull Boyd over, but Boyd accelerates until a portable toilet falls on the trooper's car and ends the chase. After the chase, Mitch acknowledges that Boyd is a better father than he ever was. Mitch embraces his son while he is driving, which distracts Boyd. Boyd inadvertently hits the same homeless Santa from the gas station. Realizing the trouble, Mitch offers to dispose of the body. Nelson suggests that they burn the body when the Santa suddenly wakes up and asks for some bourbon.
Back at Mitch's house, a hallucinating Douglas has a conversation with a snowman (Jeffrey Tambor) in a snow globe. The snowman tells Douglas that Santa does not exist. On the road, Boyd and Mitch realize that the truck is damaged from the accident and that they are stranded. Boyd is ready to give up, but Nelson encourages him to continue. Mitch asks the homeless Santa if he has a vehicle for them, and the Santa reveals that he has a snowmobile. The homeless Santa drives Boyd, Nelson, and Mitch back to Mitch's house. However, the kids are already up when they arrive, and Douglas realizes that he has no presents under the tree. Mitch and Boyd send in the alcoholic Santa with Douglas' gift. The Santa goes in and begins drinking a bottle of bourbon left out by Mitch before giving Douglas his gift.
In front of the whole family, Douglas opens his Santa present which is a sled hand made by Boyd. Douglas shows disinterest in the gift. However, he shows excitement in the old toys that Luann and Donna wrapped the night before. Boyd and Luann make up, and Mitch and Boyd have a better understanding of each other. Later, Douglas attempts to ride his sled on the grass when it begins to snow. Mitch looks into the sky and says that it is probably ash, not snow.
Additional Film Information
Rate the Film!
Phase 4 Films released A Merry Friggin Christmas on November 7, 2014. Tristram Shapeero directed the film starring Joel McHale, Lauren Graham, and Clark Duke.