Summaries
A Very Harold & Kumar Christmas (2011)
A Very Harold & Kumar 3D Christmas (original title)
Film and Plot Synopsis
Six years have elapsed since Guantanamo Bay, leaving Harold and Kumar estranged from one another with very different families, friends, and lives. But when Kumar arrives on Harold's doorstep during the holiday season with a mysterious package in hand, he inadvertently burns down Harold's father-in-law's beloved Christmas tree. To fix the problem, Harold and Kumar embark on a mission through New York City to find the perfect Christmas tree, once again stumbling into trouble at every single turn.
Buy the Film
A Very Harold & Kumar Christmas [Blu-ray]
5 new from $15.45
39 used from $1.59

as of May 19, 2023 10:46 pm
*As an Amazon Associate we earn from qualifying purchases.
'A Very Harold & Kumar Christmas' Movie Summary
The summary below contains spoilers.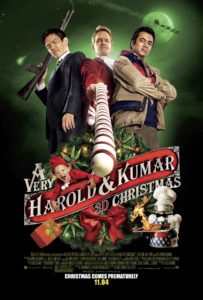 Six years have passed since Harold Lee (
John Cho
) and Kumar Patel (
Kal Penn
) escaped from Guantanamo Bay. Unfortunately, the best friends and roommates have gone their separate ways and have not even spoken to each other in two years. Harold has become a successful businessman on Wall Street and given up the days of sitting around smoking marijuana with his friends. Additionally, Harold is engaged and set to marry his long-term Latina girlfriend Maria (
Paula Garcés
). However, the years have no been as kind for Kumar. Kumar still lives in the messy apartment he once shared with Harold and struggles to make ends meet. Kumar was kicked out of medical school years prior for failing a drug test. To make matters worse, Kumar has recently been dumped again by his girlfriend Vanessa Fanning (
Danneel Harris
) who is pregnant with his child.
Harold is extremely stressed for Christmas this year. Harold wants everything to be perfect for his future father-in-law's visit during the holiday. Maria's father, Carlos Perez (Danny Trejo), does not like Harold and thinks his daughter can do better than the businessman. Harold feels additional pressure when Mr. Perez brings his own Christmas tree that he has been growing for eight years to Harold's home. Mr. Perez lectures Harold as to the importance of the tree to his family's Christmas.
Meanwhile, Kumar receives a package with Harold's name on it at his apartment. Kumar decides to deliver it Harold and goes to his house. At Harold's house, the two former friends open the box and discover a large marijuana joint inside. Harold has no idea where the package came from, and Kumar lights the joint up. Harold grabs the joint from Kumar and attempts to throw it out the window. However, the joint lands in Mr. Perez's Christmas tree and it immediately goes up in flames.
Desperate, Harold tries to formulate a plan to replace the prized tree on Christmas Eve. Kumar informs Harold that his new friend Adrian (Amir Blumenfeld) is attending a party that evening with a Fraser Fir Christmas tree, one that is similar to Mr. Perez's Christmas tree. Kumar tells Harold that if he drives Kumar to the party, he can have the tree. Harold, Kumar, Adrian, and Todd (Thomas Lennon), Harold's "new" best friend arrive at the party, where a girl named Mary (Jordan Hinson) tries to seduce Harold. Mary is the daughter of a Russian mob kingpin named Sergei Katsov (Elias Koteas). Sergei sends two of his men to kill Harold and Kumar, believing that they were trying to rape his daughter.
Harold and Kumar escape the building alive, but without the Christmas tree. They run into their old friends, Andy Rosenberg (Eddie Kaye Thomas) and Seth Goldstein (David Krumholtz), who they have not seen for years. Afterwards, Harold and Kumar plan to steal a tree from a church but end up participating in a Christmas show featuring Neil Patrick Harris (Neil Patrick Harris). Harold and Kumar are surprised to see NPH alive since they saw him killed outside a Texas whorehouse six years prior. NPH reveals that he did, in fact, die, but Jesus Christ kicked him out of Heaven. NPH reveals that he can now read their minds and hooks the boys up with not only a Christmas tree, but a Wafflebot as well.
The two men begin to head back to Harold's house to put up the tree when they are kidnapped by two of Kastov's men. Fortunately, Wafflebot saves Harold and Kumar but the boys lose the tree. After accidentally shooting Santa Claus (Richard Riehle) in the head, Kumar gives him emergency surgery and saves Kris Kringle's life. Santa is grateful and agrees to fly both Harold and Kumar back to Harold's house in his sleigh. Along the way, Santa reveals that he was the one who sent the package with the joint, hoping that it would reunite the two old friends.
Harold arrives home to encounter an angry Mr. Perez. Maria's father is upset that his Christmas tree is missing. After being pushed to his breaking point over the course of the night, Harold finally stands up to Mr. Perez and tells the man that he may not be the perfect son-in-law, but he is the perfect guy for Maria. Mr. Perez is impressed with Harold's emotional display and smiles. He explains that he knew Harold was a nice guy but wanted to make sure that he had "cojones" before accepting him into the Perez family.
Harold and Kumar rekindle their friendship, and Kumar rekindles his romance with Vanessa. Kumar promises Vanessa that he will retake the medical exams to become a doctor for the sake of their child. Harold and Maria awaken on Christmas morning to discover that Santa has left a replacement tree in their lounge. Additionally, Maria discovers that she is pregnant on Christmas morning. Harold decides to smoke weed again, and he and Kumar share a joint again for the first time in years.
Additional Film Information
Rate the Film!
Warner Bros. released A Very Harold & Kumar Christmas on November 4, 2011. Todd Strauss-Schulson directed the film starring Kal Penn, John Cho, Neil Patrick Harris.