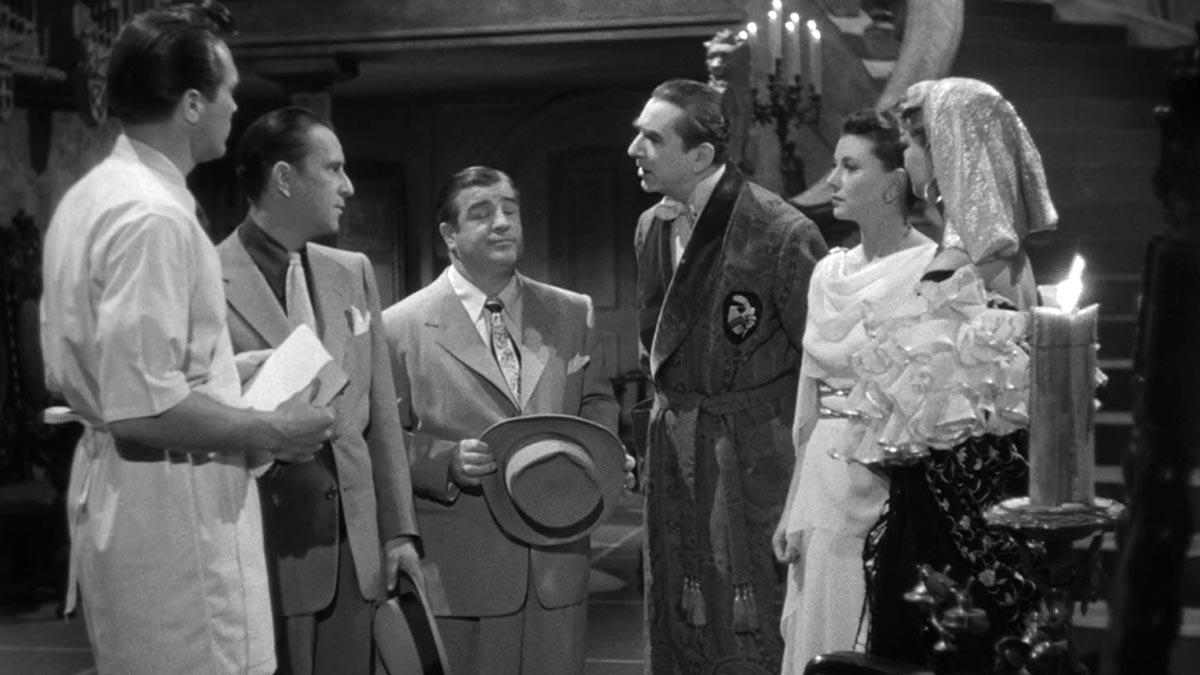 Summaries
Abbott and Costello Meet Frankenstein (1948)
Film and Plot Synopsis
Chick Young and Wilbur Grey baggage clerks whose world is turned upside down when they receive the remains of Dracula and Frankenstein bound for the House of Horrors museum. After Dracula and Frankenstein escape, complete chaos ensues! Chick and Wilbur find themselves mixed up in an evil plot to switch Wilbur's brain with Frankenstein's. However, a man named Larry Talbot, who turns into the Wolf Man when the moon is full, arrives to help the fellas.
Buy the Film
Abbott and Costello Meet Frankenstein [Blu-ray]
4 new from $9.35

as of December 4, 2022 1:19 am
*As an Amazon Associate we earn from qualifying purchases.
'Abbott and Costello Meet Frankenstein' Movie Summary
The summary below contains spoilers.
Chick Young (
Bud Abbott
) and Wilbur Grey (
Lou Costello
) are working as baggage clerks at a Florida railway station when a man named Lawrence Talbot (
Lon Chaney Jr.
) urgently calls from London. He frantically tells Wilbur that a shipment is on the way to a local wax museum called McDougal's House Of Horrors which is exceedingly dangerous.
Talbot claims the crates contain the remains of Count Dracula (Béla Lugosi) and his Frankenstein monster (Glenn Strange). Unfortunately, before Wilbur can understand the words coming out of Talbot's mouth, a full moon in London transforms Talbot into a werewolf. While in this state, he trashes his hotel room as Wilbur listens in on the other end of the line. Wilbur quickly hangs up, thinking it's a prank call.
Meanwhile, the museum's owner, oddly named McDougal (Frank Ferguson), arrives to pick up his shipment. However, Wilbur bumbles the delivery of the crates, and McDougal instead demands Chick and Wilbur hand deliver them to his museum where his insurance agent will inspect them. The two men deliver the crates later that night.
When they open the first one, they find a coffin inside. Chick then goes to get the other crate. To pass the time, Wilbur reads an exhibit card containing the legend of Dracula. As he does so, the coffin slowly creaks open which nearly scares Wilbur out of his pants, and his attempts to catch Chick's attention results in panicked stutters.
As this goes on, Dracula manages to climb out of his coffin unnoticed to hide in the shadows. When Wilbur finally tells Chick the coffin opened by itself, Chick opens it to reveal that it's empty. The two open the second crate containing Frankenstein (Glenn Strange), but don't know he's inside. Chick then leaves to talk to McDougal and his insurance agent. While he's out, Dracula hypnotizes Wilbur and brings Frankenstein back to life with an electric shock to his neck bolts. The two ghouls are long gone by the time Chick returns with McDougal and his insurance agent. Seeing that both crates are empty, McDougal accuses the two of theft, and has the police arrest them.
Later that night, Dr. Sandra Mornay (Lenore Aubert) gives Dracula and Frankenstein a warm welcome to her little island castle. Sandra, who is a gifted surgeon, has seduced Wilbur in order to replace Frankenstein's brain with Wilbur's.
Over at the jail, someone bails Wilbur and Chick out. They assume Sandra did so. However, they are surprised to discover it is an undercover investigator working for the insurance company named Joan Raymond (Jane Randolph) who bailed them out. Joan too feigns her love for Wilbur in hopes that he'll lead her to the missing exhibits. Instead, Wilbur invites Joan to a masquerade ball that evening—as he should.
Meanwhile, Lawrence Talbot arrives from London, and he rents an apartment across the hall from Wilbur and Chick. Talbot asks Chick and Wilbur to help him find and destroy Dracula and Frankenstein. Wilbur believes his wild story, but Chick does not.
That night Wilbur takes Joan and Chick to Sandra's castle to pick her up for the masquerade ball as well. The phone rings, and Chick tells Wilbur to answer it. It's Talbot, who informs them that they're in the House of Dracula. He gets Wilbur to agree to search the castle. He and Chick do so, and soon find a staircase that leads to the basement.
Chick wants to search for Dracula and Frankenstein so he can prove to Wilbur they do not really exist. When Wilbur presses up against a stone wall, he finds it to be a secret revolving door which leads to the two monsters. Unfortunately, whenever it rotates back to Chick, and Wilbur gets his attention, the monsters disappear. While this goes on, upstairs, Joan finds a notebook in Sandra's desk with incriminating evidence, and Sandra finds Joan's insurance company employee ID in her purse.
With all this hilarity over, it's time to head over to the ball. As the group is about to leave, Dr. Lejos, dressed as Dracula because he's secretly Dracula, introduces himself to Wilbur, Chick, and Joan. Also working for Sandra at the castle is Professor Stevens (Charles Bradstreet). He seems to be clueless to Sandra's true plans, and he questions her about some of the new equipment. Wilbur then reveals that he was in the basement, so Sandra fakes a headache and tells Wilbur and the others to go to the ball without her.
With the group out of her hair for now, Sandra tells Dracula that with Stevens' suspicions, Joan's true identity, and Wilbur's snooping around, they need to put the experiment on hold. Dracula balks at the notion and hypnotizes her before biting her in the neck.
Now, everyone's at the masquerade ball. Talbot arrives too and confronts Dr. Lejos / Dracula. Lejos sidesteps Talbot's accusations, and takes Joan to the dance floor for a little waltz. Sandra's there, and she takes Wilbur out to the woods where she attempts to bite him, but Chick and Talbot are close enough to scare her off.
Now Talbot, Chick and Wilbur search for Joan, but it's still a full moon somehow, and Talbot transforms into the Wolf Man where he stalks Wilbur. Wilbur escapes, but the Wolf Man attacks McDougal, who's also at the ball. Since Chick's using a wolf mask for his costume, McDougal accuses Chick attacking him out of spite. Chick escapes only to watch Dracula hypnotize Wilbur. He then hypnotizes Chick for his troubles too. Dracula and Sandra then bring both Wilbur and Joan back to the castle.
The next morning, Chick and Talbot meet up in the bayou. There, Talbot reveals that he's the Wolf Man. Chick replies that Dracula has Wilbur and Joan on the island and the two set out to rescue them.
We then cut to Wilbur who's chained in a pillory in the castle's cellar. Sandra monologues her plan to transplant his brain into Frankenstein. Once she and Dracula leave to prep Frankenstein ready for the operation, Chick and Talbot sneak in to free Wilbur. When Dracula and Sandra return, they find Wilbur missing, but since he's still under Dracula's spell, he forces Wilbur to come back. Wilbur now finds he's strapped to an operating table in the lab with Frankenstein on an adjacent table.
As Sandra's about to cut open Wilbur's forehead, Talbot and Chick burst in the room. Talbot pulls Sandra away from Wilbur, and Chick unintentionally knocks her out while battling Dracula. Dracula chases Chick out of the lab as Talbot goes to untie Wilbur. However, it's time for another full moon (for the umpteenth night), and once again, Talbot transforms into the Wolf Man.
Dracula returns to the lab to tussle with the Wolf Man around Wilbur's gurney. This time, Dracula lees the room and the Wolf Man takes chase. Chick returns to untie Wilbur just as Frankenstein breaks his restraints and climbs off his gurney. Sandra attempts to command him, but Frankenstein picks her up and tosses her out the lab window where she falls to her death. Chick and Wilbur flee the lab and Scooby Doo-it from room to room with Frankenstein following closely behind.
Dracula transforms into a bat in a feeble attempt to escape the Wolf Man. The Wolf Man catches him before tumbling off the balcony, and onto the sharp rocks below where the two may or may not die. However, Joan abruptly wakes from her trance and Stevens (remember him?) rescues her.
Wilbur and Chick run out to the pier with Frankenstein still in hot pursuit. The two climb into a small rowboat and try to paddle out into the water. Stevens and Joan arrive. Somehow Stevens is able to pour gasoline all over the pier and set it ablaze… but not himself! Frankenstein walks into the flames (forget Frankenstein is supposed to be afraid of fire) and dies as the pier collapses into the water.
As Wilbur yells at Chick for not believing him, Chick says that since all of the monsters are dead, there's nobody to frighten them anymore. They suddenly hear a disembodied voice (Vincent Price) and see a cigarette floating in the air. The voice says, "Oh, that's too bad. I was hoping to get in on the excitement. Allow me to introduce myself—I'm the Invisible Man!"
Wilbur and Chick jump into the water, and swim off while the Invisible Man laughs for a happy ending.
Additional Film Information
Rate the Film!
Universal Pictures released Abbott and Costello Meet Frankenstein on June 15, 1948. Charles Barton directed the film starring Bud Abbott, Lou Costello, and Lon Chaney Jr.