Summaries
About Last Night (1986)
Movie review coming on 7/17/2023
Film and Plot Synopsis
In 1980's Chicago, habitually single bachelor Danny Martin and constantly looking for love Debbie Sullivan encounter each other at a softball game and a postgame get together at a bar. After a one-night stand, the two begin a relationship with each other. However, their mutual best friends Bernie Litko and Joan Gunther work to sabotage the couple as Dan and Debbie struggle with transitioning from a purely sexual relationship to a committed relationship.
Buy the Film
About Last Night... [Blu-ray]
6 new from $12.33
5 used from $12.27
Free shipping
as of February 7, 2023 2:32 am
*As an Amazon Associate we earn from qualifying purchases.
'About Last Night' Movie Summary
The summary below contains spoilers.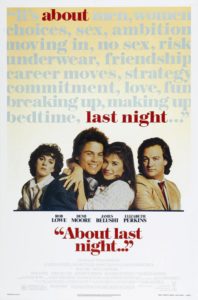 In 1980's Chicago, best friends Dan Martin (Rob Lowe) and Bernie Litko (James Belushi) are two freewheeling single men who enjoy their world of sexual adventures without any attachments. Each day they relive their sexual escapades from the night before with each other between their jobs working at a restaurant supply company and their time spent playing softball.
One afternoon at a softball game, Dan meets Debbie Sullivan (Demi Moore), a young girl who works for an advertising company and sleeps with her boss, Steve Carlson (Robin Thomas). The two engage in some light flirting, which continues later that night when Debbie goes to Dan and Bernie's local hangout, Mother's, with her best friend, Joan Gunther (Elizabeth Perkins). Joan takes an immediate dislike to Dan, but Debbie hooks up with Dan and the two end up back at Dan's apartment where they have sex. The next morning, Debbie is embarrassed by her behavior and tries unsuccessfully to leave before Dan wakes up.
Despite Debbie's hasty exit, Dan is smitten with Debbie and calls her at work to ask her out on a second date. Debbie accepts despite Joan's disapproval of Dan. Once again, the two end up in bed together, but Debbie does not try to leave early the next day. Instead, the two spend the following day together exploring the city and getting to know each other. Dan opens up to Debbie and confesses that his dream is to open his own restaurant. Debbie also becomes smitten with Dan, and the two begin a serious relationship with each other. However, Joan and Bernie disapprove of the relationship while also hating each other as well.
Dan and Debbie's relationship encounters strife as neither of them really know how to behave in a serious monogamous relationship. They struggle with issues from living together and the lack of support from their friends for their relationship. Dan struggles to open up and share his problems with Debbie, Debbie's boss has difficulty accepting the end of their relationship, Dan is contacted by a former married lover, Debbie has a pregnancy scare which results in her realizing that she wants children, and Dan struggles with his boss Mr. Favio (George DiCenzo) who orders him to cut off the restaurant supplies to Dan's friend Gus (Joe Greco). Throughout their issues, Debbie tries to remain supportive of Dan, but he constantly internalizes his problems and emotionally withdraws. Nevertheless, the couple eventually tell each other that they love each other which is a commitment that seems to surprise them both.
Dan and Debbie's relationship reaches critical mass during a New Year's Eve party at Mother's. Debbie sees her friend Pat (Megan Mullally) making a pass towards Dan. Joan also discovers that her perfect boyfriend is married and is returning to his wife. A devasted Joan asks Debbie to take her home which results in a fight between Dan and Debbie. When Debbie returns home, Dan confesses that he is not happy and tells Debbie that they need to end their relationship. Debbie unhappily agrees and moves out immediately, ultimately moving back in with Joan. Dan attempts to get back into his sex without a relationship rituals with Bernie, but after several meaningless hook ups, he finds that his life is empty and begins to regret ending his relationship with Debbie.
After a few months, Dan calls Debbie and tries to nonchalantly strike up a conversation to which Debbie rejects his advances. Dan begins to stalk Debbie which culminates with Dan showing up at Mother's on St. Patrick's Day to confess his love for Debbie. Despite Dan's repeated claims that he made a mistake ending their relationship, Debbie rejects Dan's requests to get back together and tells him that getting over him was the hardest thing she has ever had to do.
In the aftermath of Dan's desperate attempts to win back Debbie, Dan decides to move on with his life. He gathers the courage to quit his job working for Mr. Favio and partners with Gus to revitalize Gus' restaurant into an old-school diner, achieving his dream of owning a restaurant. A few months later, Dan and Bernie are at another soft ball game when Joan and Debbie ride by on bikes. Joan convinces Debbie to talk to Dan, realizing that she bears some of the responsibility for their relationship ultimately ending. Dan and Debbie talk and express regret for how their relationship ended. As Debbie begins to leave, Dan asks her out again which Debbie agrees to, but only if they go to "some old joint" signifying her knowledge that Dan fulfilled his dream. As Debbie rides away on her bike, Bernie convinces Dan to go after her. As the camera pulls away, Dan is seen running after Debbie while Bernie hits on an unwilling Joan one last time.
Rate the Film!
TriStar Pictures released About Last Night on July 4, 1986. Edward Zwick directed the film starring Rob Lowe, Demi Moore, and Jim Belushi.